Making a Bed Fast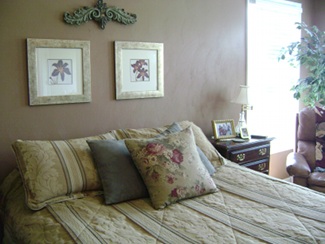 Making the bed is something I do every morning . . . but it's because I discovered a quick and easy way to do it.
I once heard Martha Stewart say that the best time to make the bed is while you're still in it. I thought it was funny, but I tried it and it works.
My husband wakes up first so I have the bed to myself. What I do, is while I'm waking up and opening my eyes, I stretch really big and straighten the sheets out to cover the queen bed. I use both my feet and arms. It's kind of like making a snow angel. After I have the sheet fixed, I then adjust the blanket while still under it and then pull the comforter up past my head to assure it will be in place when I get out of the bed.
At that point, I fold back a corner and slide out, placing my feet on the floor. It's easy to turn around and fold the corner back in place and toss on the pillow shams and throw pillows. In less than one minute, I have it made!
Now, if I could just teach the kids!!
Copyright © 2008-2015 Debbie Reynolds Harper
Read more about the writer: Debbie Reynolds Harper
---
Post Your Comment...
---