< Back to Strength for Your Spirit
A Season of Sadness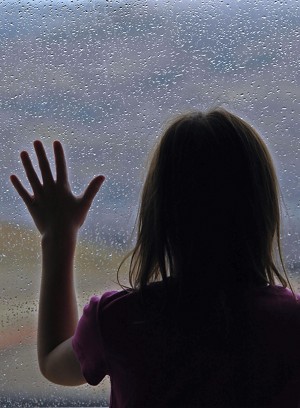 I'm not usually a super-emotional person. In fact, it's kind of a "point of pride" for me that I'm a detached and ruled-by-my-head kind of person. But for the past few weeks, I've been hit by a wave of sadness. It's not like I'm suffering a life crisis or mourning the loss of someone dear. It's just a series of disappointments and personal hurts that is making me feel in need of encouragement, love, and some heavenly direction.
I'm doing all the things I think I'm supposed to do to put myself back together. As busy as I am with work, ministry, and my three young children, I'm spending several hours a day in Bible study and time with the Lord. I'm exercising and eating better in order to make sure I'm physically healthy.
But, I'm sad. That's the bottom line truth of it. And it feels silly to be sad. So, I tell myself to "snap out of it." Today, I heard Patsy Clairmont on the radio pretending to talk to her emotions, saying, "Now, you're just being unreasonable!" I have certainly had that conversation with myself this month! But, as she reminded me, our emotions aren't "reasonable."
I've tried faking being okay---being cheerful when people ask me how I'm doing. I thought if I could act happier, I'd feel happier. Even in prayer time, I've tried talking myself out of sadness. I'll quote verses to myself and rationally fix whatever spiritual problem I think I'm facing. But then I have a day like today, where I cry through my Bible study time and bawl during my exercising (not the most effective way to work out), hold back tears when I go to pick my kids up from school, and then cry as I write this article.
As much as I pride myself on being a super-rational and in-control person, right now I'm in a place where God has allowed me to feel broken and all my attempts to patch up my brokenness are failing. In her blog today, Lysa TerKeurst, the president of Proverbs 31 ministries, described us as "leaky people." That's it! As soon as I've applied patches and seemingly fixed my problems, I read a message or hear something that sends me back to this broken place again with new holes to patch up.
Then, when I'm in tears again, I begin to criticize myself for even feeling this way. What's wrong with me? Why do I have to deal with these disappointments and all of the yucky junk down deep in my heart that I really would have preferred to remain hidden?
With all of my other strategies failing, I've decided that instead of trying to rationalize myself out of this sad place, I'm asking God to meet me in it. My kindergartener came home from school today talking about what they read in class—about all the things that won't be in heaven. She was excited to think that she won't be hurt in heaven and that means she won't cry.
I'm excited about not crying in heaven, too! In heaven, we won't be broken people any more. We're promised that in that place and at that time, "God shall wipe away all tears from their eyes; and there shall be no more death, neither sorrow, nor crying, neither shall there be any more pain: for the former things are passed away"(Rev. 21:4, NIV).
But, as exciting as that is in our future, that's not here and that's not now. In this time and place, I'm being broken and it's okay for me to come to God with sorrow. I don't need to force cheerfulness with Him. I don't need to hide away the yucky depths of my heart that are being dredged by my circumstances. I don't have to pretend I'm perfect or always kind or above sins like jealousy or pride. It's comforting for me to know that He's truly a safe place for me to go when I'm overwhelmed and sorrowful and I can come now, not after I've cleaned myself up and reapplied my makeup. He loves me just as I am.
God not only doesn't expect me to just "snap out of it," He values my emotions and cares about my tears. The Psalmist David, who certainly knew how to come to God with transparent emotion, wrote: "You number my wanderings; Put my tears into Your bottle; Are they not in Your book?" (Psalm 56:8, NKJV).
My sorrow is something I can bring intact before the throne and lay at his feet. I don't have to justify my sadness or rationalize my feelings before bringing them to God. David also wrote, "My sacrifice, O God, is a broken spirit; a broken and contrite heart you, God, will not despise" (Psalm 51:17, NIV).
Unfortunately, sometimes we're hurt when people don't know how to respond to our emotions. Maybe they pressure us to fix our problems, change the way we're thinking about things, and just generally get over it.
Be comforted that God is not tapping His foot impatiently and eyeing His wristwatch with annoyance. He's not sending down pep talks from heaven that list the ten things you need to fix to make all this go away. He's not mocking you and laughing at your feelings or scoffing at what you consider worthy of a good cry.
Instead, the Bible tells us "He heals the brokenhearted and binds up their wounds" (Psalm 147:3, NIV) and in Isaiah, it says:
The Spirit of the Sovereign LORD is on me, because the LORD has anointed me to proclaim good news to the poor. He has sent me to bind up the brokenhearted, to proclaim freedom for the captives and release from darkness for the prisoners, to proclaim the year of the LORD's favor and the day of vengeance of our God, to comfort all who mourn, and provide for those who grieve in Zion— to bestow on them a crown of beauty instead of ashes, the oil of joy instead of mourning, and a garment of praise instead of a spirit of despair. They will be called oaks of righteousness, a planting of the LORD for the display of his splendor" (Isaiah 61:1-3, NIV).
It's okay to bring tissues to your quiet time and simply cry out to God with honest sorrow. Don't try to fake your way to happiness, but instead let Him comfort you and exchange beauty for your ashes. And know that He loves you---not the lipstick-on, mascara-perfect, happy face you---but the real deep-down you that sometimes needs to cry regardless of the reason.
Copyright © 2008-2015 Heather King
Read more about the writer: Heather King
---
Reader Comments...
2011-03-24 14:27:11
"Thanks Heather, this is me today...I needed this!"
- Rebekah
2011-03-03 15:30:51
"Hurry UP Rev. 21:4; I have cried my eyes out; I have faked feeling good, happy. But, why would the bible say long-suffering if it were not true?

When I get sad I need to know that my court is not on this earth, but, my Supreme Court and Chief Justice and Judge is in heaven. I am operating under grace until that judgement...I think we all are...but, in the sorry, sadness I want to remember that...I think it's O.K. to greive for a season...then I need to shake it...because, I am not at my optimum best when I am feeling this way. Yep, I get disappointed too. I think God was a little disappointed that Adam and Even didn't follow directions in the Garden of Eden. So, even though we aren't God, we are made in his image and therefore I think we are entitled to a little disappointment.

Love your story. "


- Rose
---
Post Your Comment...
---