Celebrating Character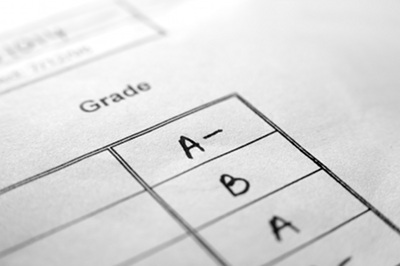 For many families, students are finishing the first school semester sometime in January or February, which means it's time to clear a space on the fridge to display the latest report card. Some of you may be planning a dinner celebration for the honor roll students in your life. Others of you are preparing to pay the promised "$5 per A." No matter what you do to celebrate good grades, consider also celebrating and even emphasizing the character qualities those grades represent.
My oldest daughter is highly motivated by awards and rewards. This means she works hard to do her best. It also means, though, that it's easy for her to focus on earning a good grade rather than the intrinsic value of learning.
This is true in church activities, as well. Many churches offer children's programs that motivate kids to learn Scripture with badges and pins. We love this in our house! We work on our verses all week, read the Scripture passages at night, listen to the verse CDs in the car, and talk about the verses during dinner. But, just like grades on a report card, the badges, patches, and pins could become the focus and motivation.
What really matters isn't the A on the report card or the badge on a vest. Instead, it is important that our kids learn Scripture so they can know God better and develop a personal relationship with Him. In school, it matters that they are working hard, becoming more responsible, and doing their best. All of the awards are just a temporary bonus.
Here are some thoughts to consider as you prepare for the next report card:
Clarify the Pride: Of course we are proud of our children when they bring home a great report card or earn an award in an activity and it's great to display those accomplishments on the fridge. But the learning that the grade reflects and the hard work it took to earn it are really more important in the big picture of life than the letter grade on a piece of paper.

You may not be able to post your child's character on the fridge, but celebrate it somehow. Let your child know that good grades show how your child worked hard, did their best, didn't give up, took responsibility, and achieved excellence! Encourage them to love learning even without rewards and recognition. Remind them that "whatever you do, do it all for the glory of God" 1 Corinthians 10:31 (NIV).


Praise their Best Effort and Celebrate Every Victory: For some kids, a C on a report card really reflects their best effort, so celebrate the C! The Bible tells us to "train a child in the way he should go, and when he is old he will not turn from it" Proverbs 22:6 (NIV). Obviously, all kids need to fulfill basic academic requirements, but God has designed each child with a different gifting and bent. It is our job as parents to discover that God-given ability and train the child in that area. Celebrate every academic victory and be sure to praise success in other activities at which your child excels and can feel accomplished.
Give Academics Their Proper Place in the Home: We highly value academic achievement, education and learning in our home. However, it should not be our only focus. Raymond and Dorothy Moore advocate developing children in four spheres---Head, Hand, Heart and Health (http://www.moorefoundation.com/article.php?id=5). In addition to academic achievement, celebrate your child's involvement in artistic endeavors, physical activities, developing friendships, and community service and outreach.
By all means, post those great report cards on the fridge and celebrate your kids' accomplishments. Be sure to recognize more than letter grades on a paper, though, and remember that it is the hard work and responsibility reflected in those grades that really deserves praise!
Copyright © 2008-2015 Heather King
Read more about the writer: Heather King
---
Post Your Comment...
---