Great Products at Dollar Prices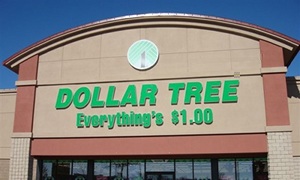 Spend those dollars! Yes. That's right. I'm recommending you spend those dollars...literally—at your local dollar store. In our area, we have a popular store called the Dollar Tree. We've recently found amazing household products there that do the same job as some major brand products do.
Among them is the LA Totally Awesome cleaning products. I discovered that some jewelers use it to clean their customers' jewelry pieces. For those ladies who relish shiny diamonds, you can microwave Awesome, drop in your rings and leave them overnight. Just gently wipe them in the morning for an amazing shine.
Instead of Resolve carpet cleaner, use Awesome's carpet cleaning products (in a red bottle). My husband discovered the cleaning crews at his workplace use it.
I also buy those amazing eraser sponges at Dollar Tree called Scrub It. By the way, if you haven't tried these sponges, you've probably exerted a lot of unneeded "elbow grease." With a quick wet, wipe and erase, these sponges almost miraculously remove crayon, marker, scuff marks, dirt, and soap scum. My children actually like the chore of "erasing" our doors, frames, walls, and stair banisters. Now, that is a miracle!
Take your time during your next visit to Dollar Tree. Yes, some things are definitely overpriced even at $1.00, but the store is also filled with deals, including a spattering of major brands. Look at the manufacturer's labels to find the "real thing."
Spend and save! Voila, an oxymoronic household tip for the New Year!
Copyright © 2008-2015 Cynthia Newman
Read more about the writer: Cynthia Newman
---
Post Your Comment...
---