A 'Salty' Valentine Card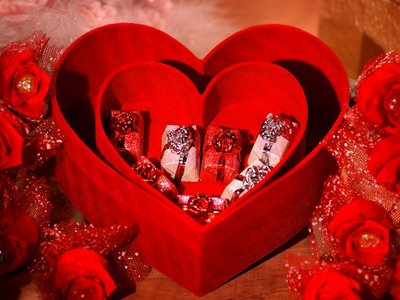 Ah, yes…February…a month of chocolate, roses, and little stuffed animals holding hearts. Every February 14th, diamonds glitter galore, red and pink rule, and restaurant reservations max out. Hearts speak abundantly on Valentine's Day. Messages of love flow easily, from the latest love language on NECCO's Sweetheart Conversation Hearts… *Tweet Me* *Text Me*
*You Rock* *Love Bug*… to fanciful and sentimental missives on ornamental cards. The US Greeting Card Association estimates that around one billion Valentine's cards are sent each year…only to be eclipsed by the number of Christmas greeting cards sent annually. What a moment of love for lovers and friends.
I, too, enjoy this love holiday. Eighteen years ago I began a Valentine tradition of hiding Hersey Kisses all over the house. As my husband finds them, he gives me a kiss for his Kiss. Sometimes months pass before all are discovered. What fun. The tradition has since expanded to include our children. Hide 'n seek with Hersey Kisses and Hugs aplenty. Copious kisses for Kisses and hugs for Hugs. Mamma is happy!
Each year Valentine's Day ushers in joyous celebrations for multitudes. Unfortunately, the day also brings to the surface and leaves in its wake untold numbers with hurting hearts and broken dreams because of separation from loved ones, unfaithfulness, disappointment, loneliness, even death.
Most sadly, a friend of mine will never see Valentine's Day the same again. In one heartrending moment last week his life changed. His precious 16-year old granddaughter took her life. Certainly guilty questions bombard his soul. "Did I not tell her or show her enough how much I loved her?" "Did she feel all alone?" "Was I not there enough for her?"
My friend has tragically lost a Valentine. Yet…yet… my heart assures me the true spirit of Valentine tidings cannot be quenched nor erased from my friend's life. That's because Jesus Christ, the Author of perfect love, has a treasure trove of Valentine missives waiting to be delivered to my friend. In fact, the Messiah's heart longs to speak of His authentic love to all His children. And He amazingly chooses us to deliver His love letters. We're His mail carriers, if you will.
So what exactly do His Valentine messages look like? Much like salt and light, I believe. His Valentine epistle may be a simple and sincere word of praise and encouragement, seasoning the heart with joy. Or it could be shared laughter and a cheerful disposition that disperses darkness looming over another's life. The Lord's Valentine notes build bridges between our hearts and those who need a friend's touch. Like salt and light, His love words in action preserve today's hope and brighten tomorrow's. As His children (that's you and me, dear sisters) willingly, selflessly, and passionately deliver the 'salty and shining' Gospel message to friends, family, and strangers alike, God's enormous love will reign eternal in the depths of their souls.
Valentine's Day and beyond, I desire to send purposeful, 'salty' Valentines, not only to my grieving friend, but to all those Jesus brings across my life's path. I know when I offer an empathetic ear and open hands of service, it's like pouring a quality measure of salt into my friend's life….like preserving and strengthening his faith with God's peace (Matthew 5:13). I know when I intentionally and tangibly reflect God's love-light into another's life, it's like I am a city set on a hill that cannot be hidden (Matthew 5:14).
My family's Valentine tradition now has an added element. Our festive dinner table decorations include a dash of salt sprinkled on the table…reminding us that the Lord's Valentine messages truly are sweet 'n salty to the soul.
Faithfully imparting to all God's Valentine blessings is the true expression of perfect love.
Wishing you all a blessed and 'salty' Valentine's Day.
Copyright © 2008-2015 Cynthia Newman
Read more about the writer: Cynthia Newman
---
Reader Comments...
2012-02-14 10:00:20
"So beautiful"
- Evelyn
---
Post Your Comment...
---