< Back to Kitchen Keeper Recipes
Crock-Pot Chili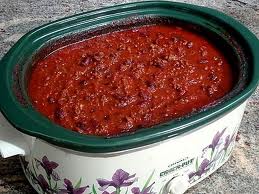 I just got a nice new Crock-Pot for Christmas from my thoughtful brother, Brent, and I've already put it to good use. I was excited to see a book of recipes included and am looking forward to making this Chili recipe soon—maybe even for the Super Bowl Party this month. Maybe you will enjoy trying it too, but start early, it takes four to eight hours—but hey, you can do other things while it's cooking because in a crock pot, it cooks itself. That's my kind of cooking!
Ingredients:
2 large onions, chopped
5-6 cloves garlic, minced
2 green peppers, chopped
2-3 pounds ground beef, cooked and drained
2 14-ounce cans red, black or white beans, rinsed and drained
1 14-ounce can diced tomatoes
2 jalapenos, seeded and minced
1 tablespoon cayenne pepper
1/2 cup beef broth
Directions:
Add all ingredients to Crock-Pot slow cooker.
Cover and cook on LOW for 8 hours or on HIGH for 4 hours.
Copyright © 2008-2015 Debbie Reynolds Harper
Read more about the writer: Debbie Reynolds Harper
---
Post Your Comment...
---