10 Things We Wish We Knew Before Our Family Crisis, Part 2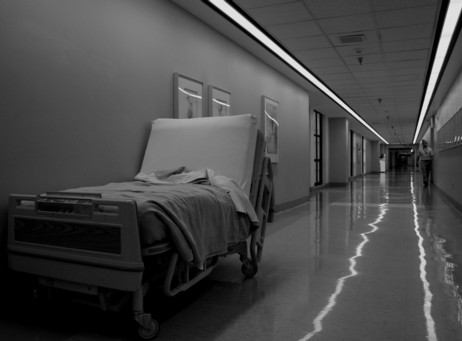 Last month I wrote on the 10 things we did right in a family crisis. However, there were many things we didn't know in advance and wished we would have. These things would have helped us navigate our family crisis a bit better. I hope these suggestions help you prepare for a family emergency should you have to face one.
Know medications, medical history and allergies of your loved one.
I knew Mom took a lot of stuff, but had no idea really of everything. The day of Mom's accident after going to the emergency room, I came home and went through her medications to make a list. The ER doctor really wanted and needed it. The list was of medication, dose and frequency.

Make this list now and keep it updated and keep it with you. The hospital doesn't share with the rehab, rehab doesn't share with the hospital, the hospital doesn't share with the doctor and the rehab doesn't share with the doctor. Asking about medications is one of the first questions each of these entities asks about the patient.

In the hospital, I saw Mom's hospital bracelet and read – "allergy sulfa." What? Did I know this? I don't think I knew this? I forgot! How could I forget that? Thankfully, my sister, Jeaneen, was with Mom when they admitted her.

Know the allergies of your loved one. There are many tools available for easy notification of medication conditions and allergies.
Know who to contact.
Fortunately mom was able to tell us to call her pastor and personal doctor and tell us they were contacts in her phone. What if she hadn't been able to communicate with us? Would we have known? I know the church she attends, but I can likely tell you we wouldn't have been able to directly contact her pastor that night if she wouldn't have been able to tell us who specifically to contact and how he was listed in her cell phone contacts.
Know your loved one's wishes and be sure these wishes are documented.
Do they have a living will? We thought sure Mom had a living will – on file with another hospital. However, we didn't know where her copy was and we were not exactly sure what it said. Power of Attorney? What is that? What does that mean? Who should have it? These are all questions to know the answers to before an emergency situation.
Act on behalf of your loved one as the primary medical informant and communicator.
You have to contact the doctors, hospitals and rehabs and tell them what you what them to know. Silly us, we thought when the admin people at each place asked us for mom's personal physician information and told us they would inform him that they would. This was not true. We had to call and re-call to get information faxed to mom's personal physician, even though we gave them the fax numbers. In one situation I had to call, ask for a copy of a disc of Mom's CAT Scan, go pick it up and then take it to her doctor so they would have a copy of it. When we mentioned to her personal physician that the rehab told us they would contact them, the doctor said, they never do, you have to do this yourself. Maybe it's a Cincinnati thing.
Contact your loved one's work and other scheduled appointments.
Mom is still working and was working at the time of her accident. She had appointments scheduled, people were expecting her and we needed to get in touch with them. Unfortunately, this didn't occur to us until about 3 or 4 days into the ordeal. Fortunately, Mom keeps a hard copy appointment book with names and phone numbers. Once we were onto this it was an easy task because of Mom's thorough records.
Know where you want your follow-up care and therapy to take place.
We had been told from day one when Mom was admitted into the hospital that as the day for Mom's release drew near, the hospital social worker would work with us in finding a place for Mom's rehab based on her need, her insurance and her wishes. We were waiting for the social worker to make recommendations and finally learned that she was not going to do this. We needed to tell her where we wanted Mom to go and she would tell us if Mom's insurance would work there and if they had a bed for her. Don't wait until Friday to do this. Everyone is trying to get their loved one out of the hospital by the weekend. When it came time for Mom to leave the rehab and we needed to determine an in-home health care provider, again, we thought the rehab social worker would make a recommendation. Then we found out that they were not allowed to do this because of a conflict of interest. I thank God that my sister and sister-in-law were familiar with some of the local facilities. The rehab facility was very good and we are grateful for the physical therapist assigned to mom in the facility. The at-home therapy provider was also good. Think about this before it happens. Be proactive and do the research necessary to make an informed decision.
Take care of their home.
Mail and the daily paper kept coming (only for a few days) and bills needed to be paid. My mom left home at 8:30 on a Tuesday and didn't return for six and half weeks. I lived with my mom, but was staying at the hospital as much as I could. I notified the local police and let them know that the activity around the house would be reduced and if the house alarm went off, to please take it seriously as we were not home to accidentally set it off (as we have done on occasion). The police in turn alerted me to a problem they were having in the neighborhood and asked me to keep my eyes open for this when I was home.
Take care of yourself.
I wish I knew how to do this better. I gained weight during my Mother's crisis. Even though I worked hard not just to grab fast food, my exercise, eating and sleeping routines went out the window. My dad and stepmom helped and I stopped in for several meals with them, but overall, I just didn't do this well. This is probably an area where I need an emergency plan on hand – for well, emergencies. That said, at the end of the day, I'm not really sure that at the height of the crisis I could have or would have done anything differently. I will re-emphasize how helpful it was to have somewhere to go for a home-cooked meal without cooking it myself in those first two or three weeks.
Know voicemail passwords.
Mom's home voice mail filled up. It was probably two weeks into the ordeal before I thought to ask her for her password so I could pull her voice mail. When I did it was full. Some people were calling for a third and forth time and were very concerned that Mom had not called them back because it was contrary to her typical habits. It took me a few hours to pull the voicemail and call people back and inform them of Mom's situation.
Know where important documents are kept.
You need to know whether your loved one has a safety deposit box or other secure place for important documents, such as a living will, will, power of attorney and health care power of attorney.
Maybe you've had difficulty talking about such things with your loved one. Print this article and use it if you need to. I can't stress how important these things and things like them are. Be prepared. Maybe our situation is different because our Mom is single and doesn't have a spouse, but my guess is that it is really not so rare. We were not prepared. Yet, we were fortunate that we could communicate with our loved one in the midst of the crisis to take care of and resolve these matters. How about you, are you ready for a family crisis?
Copyright © 2008-2015 Diane Wiater, Ph.D.
Read more about the writer: Diane Wiater, Ph.D.
---
Post Your Comment...
---