Caregivers as Heroes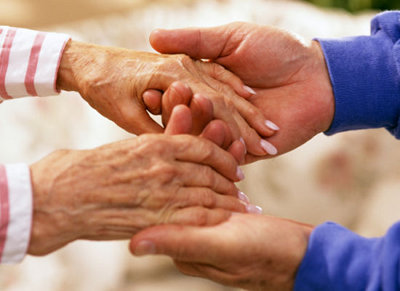 Helen looked over at Josh with a tentative smile . . . and watchful eyes to see how Josh was handling this social situation.
David was beaming . . . he had no cares in the world, but his companion Lila reached out a protective hand to keep him close. David is in the early stages of Alzheimer's.
While telling a story about meeting his wife Pat, Al proudly announced, to Pat's consternation, that they had been happily married for the past 46 years.. "64, 64," she said in a stage whisper.
Alice, a sophisticated mother in her 90s, cast anxious glances at her daughter Judy who is in her 70s. "Why does Judy get mixed up so much?" questioned the mother to herself.
A tired-looking Rachel exchanged glances with a large man in a wheelchair. Philip, an outstanding educator, has been unable to walk for several years due to sores that won't heal because of diabetes. Rachel, a gifted children's educator, has had to leave her profession to see that Philip can meet all of his professional obligations.
Fran enters the room with her 35-year-old mentally challenged daughter Rebecca. When she and Glenn had adopted Rebecca, they were looking forward to living the American dream. Within a year, they knew that their lives would change drastically. Glenn, unable to handle the changes, decided to move on to have a more "normal" lifestyle. Fran's life has been governed by Rebecca and her handicaps. Even attending church is tension-filled because Fran never knows when Rebecca will speak out in a loud voice, asking an inappropriate question.
With reluctance, Donald, himself dealing with physical problems, has to put his wife, Rhonda, into a care center. He no longer can handle the daily care Rhonda requires. In fact, within a month, he dies from a massive heart attack.
A son looks at the mother who had reared him with such loving care. He says this is "payback time" as his schedule becomes a routine of chemo treatments, CAT scans, and blood tests.
One wrong move on a water slide and a young couple, just months away from the wedding, are challenged by the man's quadriplegic condition. They go ahead with the marriage and the husband is able to pursue a profession in insurance, but the talented young wife still has to work her professional schedule around his care.
Who is a hero or heroine?
In today's society, many of us have been, are, or will be caregivers—not in the normal sense for young children but for parents, spouses, or friends. Age is not always a factor, but we are seeing more of this as our population ages. The loss of abilities, either physically or mentally, bind the caregiver to the one needing care.
With medications that can keep our bodies functioning well beyond the biblical "four score years and ten," most of us will face the caregiver responsibility, often while we are still in the child-rearing stage of life. We become the "sandwich generation."
For caregivers, their lives are no longer their own. They are dictated by the needs of the one whom they love deeply, sometimes more than life itself. In spite of the sensationalized stories of elder abuse, desertion, and even murder-suicide, most of the caregivers sincerely want to do what they can for their loved ones—even when the loved ones can no longer recognize them.
These are the truly "unsung heroes" of the 21st century. Various social agencies as well as church groups try to offer help. However, what most of these caregivers desperately need is some TLC (tender, loving care).
Someone willing to listen with an open and emphatic ear. Caregivers are reluctant to let others know how tired they are, how they have been abused by the patient, how they are at the "end of their rope." You probably can't solve the problems, but you can provide an outlet for emotionally and physically exhausted caregivers. Being able to vent freely without guilt or feeling of judgment is so important.
Depending on the situation, you may be able to arrange times for the caregivers to get away for some much-needed rest and diversion. If the situation is such that the caregiver is reluctant to leave the home, an offer to come in and be the caregiver for a set time so the exhausted one can rest at home without feeling he/she is "on call" would be so appreciated.
A favorite DVD or music CD may provide emotional and spiritual refreshing. For one couple, watching a Bill Gaither video was therapeutic because the Alzheimer's patient could even recall some of the groups from earlier times.
Offering—and following through—to help with daily tasks such as cleaning, food preparation and other errands will help relieve the stress the caregiver feels.
If the patient needs to be hospitalized, gift cards for restaurants (both fast food and sit-down) near the hospital will allow the caregiver to get out of the room and away from the hospital for even a short period of time. Offering to stay with the patient while the caregiver leaves is another positive way to help.
Although the names have been changed, each of the above scenarios is a real, current situation. The first four were observations from just one meeting I was in. So many people are living "lives of quiet desperation" to be the caregivers for those they love.
Caregivers are indeed heroes, and by helping the CAREGIVERS themselves, YOU will become a hero to them.
Copyright © 2008-2015 Shirley Shedd
Read more about the writer: Shirley Shedd
---
Post Your Comment...
---