Yummy Easter Bread Tradition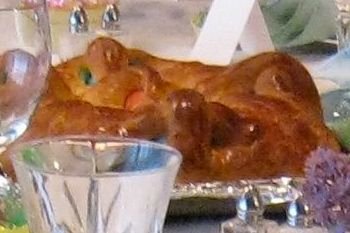 Paging through my new copy of Bon Appetit in spring 1974, I was intrigued by a Greek Easter bread. We usually have a big Easter dinner with as many in-town relatives as are available. Brad, our oldest son, got into the spirit of adventure as we colored eggs for the bread, and then we were all amazed at the gorgeous, large bread that came out of the oven!
The next year at Easter, I made the bread again. At dinner, Brad announced that the Easter bread was a tradition. I was a bit amazed that doing it two years in a row would make it a "tradition," but it really has become so in our family.
Unfortunately, I lost my battered and spattered original recipe from the magazine. Thus, in 2002, I searched the Internet for something similar to the original recipe I used. This is close.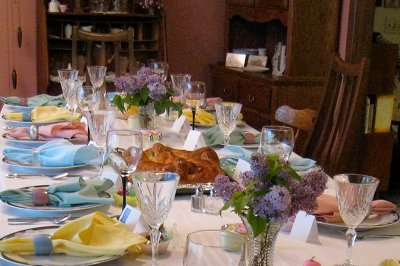 The note accompanying the recipe said the bread has been identified as both Tsoureki and Lambropsomo. The writer said she didn't know the difference between the two.
This traditional Greek Easter bread is characterized by hard-boiled, scarlet-dyed eggs baked right into the braided bread dough. Scarlet is the traditional color as it represents the blood of Christ. However, when my kids were young (and then my cousin's young daughters, and now my grandchildren), the eggs were in a variety of colors and decorations! It also became a tradition to color the eggs for the bread on Saturday afternoon. Actually, regular food color will run into the bread when baked. The author of this recipe suggested seeking out specialty dyes available in Greek markets for that specific purpose. I never did, and no one seemed to mind.
This can make two (2) braided loaves, one (1) braided ring or eight (8) small loaves. I am only giving directions for the braided ring.
Ingredients:
1 cup milk
4 ½ to 5 ½ cups flour, divided
¾ cup sugar
1 ½ tablespoons yeast
3 eggs
1 egg yolk
1 tsp. salt
½ cup butter, softened
2 tablespoons orange juice
2 tsp. orange zest
2 tsp. vanilla
½ tsp. anise flavoring
5 dyed, hard-boiled eggs
Directions:
Heat milk to very warm (about 115 degrees on a candy thermometer), and pour into the bowl of an electric mixer.
Whisk in 1 ½ cups of flour, sugar, and yeast until well combined. Detach the bowl from the mixer and cover with plastic wrap. Let stand in a warm, draft-free place until bubbly, about 30 minutes.
Fit mixer with a dough hook (I usually find the regular beaters work fine) and add eggs, one at a time, to the yeast mixture.
Add another cup of flour, orange zest and salt, then the softened butter, vanilla, anise, and orange juice.
Mix well, then gradually add enough of the remaining flour to form a soft, sticky dough, kneading until smooth.
Coat a bowl with vegetable oil and turn dough in bowl to lightly coat with oil.
Cover with plastic wrap or a clean kitchen towel and let rise in a clean, draft-free place, until doubled in size, about 1 ½ hours.
Line a large baking sheet with parchment paper (or I sometimes use aluminum foil).
Punch down the dough and divide the dough into thirds.
Roll 1/3 of the dough into a long rope, about 2 inches in diameter and 30 inches long. Place this on the baking sheet to form a large circle, 10-12 inches in diameter (or whatever your baking sheet will accommodate). Pinch the ends together to secure the rope.
Take the next third and divide it in half. Roll each half into a rope to reach across the original circle. Tuck the ends under the original circle to secure them.
Place a colored egg in the middle intersection of the two ropes. Then place an egg on the dough where the rope crosses the outer ring (4 intersections).
Take the last third and divide it into 10 smaller pieces and make a small roll of each one. Take two of the smaller rolls to cross each egg. Pinch the ends into the main ring.
Cover the formed bread with plastic wrap or a clean kitchen towel and let rise until doubled. The recipe indicates 1 ½ hours, but it has never taken that long for me.
Mix the egg yolk with 1 tablespoon water. Brush the dough with the egg mixture.
Bake the bread at 350 degrees until golden brown and hollow sounding when thumped.
Then wait for the "ooos" and "ahs" when your guests see this magnificent centerpiece. You may just have begun a new tradition!
Copyright © 2008-2015 Shirley Shedd
Read more about the writer: Shirley Shedd
---
Post Your Comment...
---