Oh the Comfort of Friendship: All Weather Friends - Dear Winter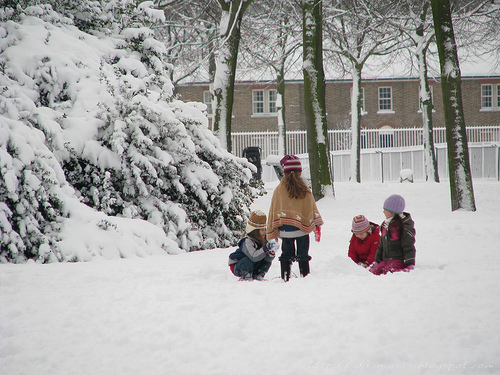 How mundane life would be without our changing seasons. With colors splashing, shapes morphing, and scents mingling, the varying scenery reveals our astonishing Creator and His infinite creativity. Those who take the time to ponder the seasons will discover fresh and vital insights into the wisdom and ways of God. Such revelation touches every area across the landscape of our lives, helping us grow strong in Christ.
Do any of your friends remind you of our weather seasons? Perhaps you have a winter friend whose mere presence vividly accents God's majestic beauty…or a spring acquaintance who renews your days with fresh, astounding color. Possibly a summer buddy shares with you some much-needed rest and recreation…or an autumn companion waxes nostalgic of times past spent together. Such seasoned friends provoke us to burrow our roots deep into God's fertile, rich soil, much like trees planted by rivers of water, bringing forth fruit in season (Psalm 1:3).
To my dear friend, Winter --

Oh, how I hate to see you leave already. This year we really didn't get together often, but when you visited, wow, what a blast we had! I loved every flake you spit on me! You know I'm one of your few and crazy friends who adore your brisk wind whistling through trees and the freshly fallen white manna you deliver every morning. God knows I need a companion who will fearlessly enjoy, right alongside me, robust outdoor adventures!
I was just thinking about our relationship throughout the years. I have especially enjoyed our vacations in the mountains. There, we seem to discover the secret of not living under the tyranny of time. Any measurable period becomes unlimited, as if we never run out of play time. I gladly soak-in our Creator's masterful outdoor design as you beautifully accent His artistic touch. You wrap yourself around the peaks in astounding, pure white beauty. The mountainous panorama radiates a blazing light when the sun reflects off your perfectly placed snow drifts. The majestic view encourages moments of quite reverence. I listen to God's voice echo between the snowy summits. I feel His breath gently brush my cheeks with your frosty mist. I smell His handiwork waft of pine and earth. Skiing in the midst of your high altitude, winter wonderland brings me a step closer to heaven. Ah yes…our God has made everything beautiful in its time (Ecclesiastes 3:11).
And with you, my friend, I'm also a step closer to some unexpected adventure! Do you remember that time in Vail, Colorado when I skied off the cliff? Oh my, everyone thought I was a goner. But you knew right away God had purposely planted that colossal pine to stop me (ouch!), and, you made sure you spread a thick, soft blanket of snow to cushion my fall. Yes, yours is a friendship that supplies in the most ingenious ways when I'm in need. Remember how we laughed together (while our other friends thought I was crying) as I clumsily crawled back up to the trail in your bottomless powder? Shared laughter with you, friend, certainly makes my heart merry, even if your deep snow muffles the mirth!
Our evenings together hold a special place in my heart. I'm content to settle before a crackling fire and read a book in the warmth of my home while you and Jack Frost busily work throughout the night…Jack, etching his unique designs on my windows while you use broad brushstrokes to paint the ground a fresh white with your flurries. The night is as light when the moon shines on your labor, and a stunning silence embraces the evening.
Dear friend, you hold a mystery and play your own melody, offering me sights and smells, feelings and fantasies, altogether distinct. In you, God is neither mute nor careless. You are truly a friend to behold…a faithful friend to appreciate.
You promise to visit again at the end of this year, right? And when you come, please arrive in blizzard style so we can chalk-up a few more adventures…like taking the car for a few donut spins in a parking lot…or trekking on cross-country skis across lakes, up hills and maybe even over some lake cabin roofs buried in your drifts! I'm already laughing just thinking about it.
Thanks for being such an extraordinary friend in my life.
A bientot…see you again.
Your friend,
Cindy
Copyright © 2008-2015 Cynthia Newman
Read more about the writer: Cynthia Newman
---
Post Your Comment...
---