Easter Egg Success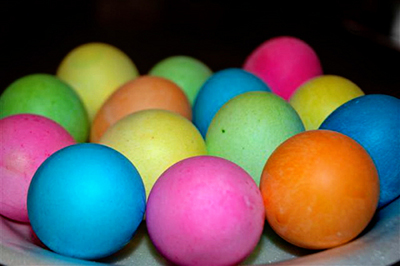 My kids look forward all year to dyeing Easter eggs and we've learned a few tips to make this project a success.
Hardboiling the Eggs:
Have you ever boiled eggs only to find them impossible to peel or with a green ring around the yolk? We've found a method that is pretty successful at avoiding those pitfalls.
Don't use fresh eggs; instead, buy your eggs a few days ahead of time and then boil them. Fresh eggs are more difficult to peel.
Place the eggs in a pot and cover with an inch or two of water and place on the stove at a medium-high temperature.
Bring the water to a boil and let the eggs simmer for about 1 minute.
Remove the pot from the stove. Cover and let sit for about 10-12 minutes.
Remove the eggs from the hot water and place into ice water.
Dyeing the Eggs:
You can certainly use the old tried-and-true egg dyeing kits from the store. If you're like me, though, sometimes you have the time and opportunity to do this project with your kids and you forgot to buy the kit. If you have the right supplies around your house, you can still decorate some eggs for the holiday, without an emergency run to the store.
Here's what you need:
Hardboiled eggs
Containers such as cups or bowls that are more deep than wide
Water
Vinegar
Food coloring
Directions:
Fill the cups with water---not all the way, though, or you won't have room for the eggs!
Place about a teaspoon of vinegar in each cup.
Add food coloring until you get a color you like.
Place the hardboiled egg in the cup and let it sit until it's the right color.
Remove the egg, let it dry.
Store in the refrigerator and enjoy!
You can also use small stickers to make the eggs fancy. If you have a wax pencil, you can create designs on the egg before you place them into the cup with the food coloring.
I hope these tips help you have some Easter egg success!
To keep up with Heather King, check out her blog at http://heathercking.wordpress.com/
Copyright © 2008-2015 Heather King
Read more about the writer: Heather King
---
Post Your Comment...
---