The Race to Graduation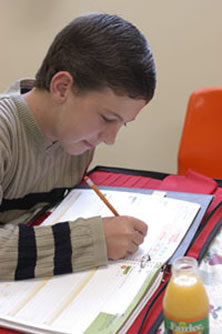 Being a new mom, the first time I looked into my little boy's eyes I saw many things--God's grace, my boy's sweet perfection, and a future full of hopes and dreams for his life. As my son grew with time, I learned that his dreams and mine were slightly different. I could see very quickly how he loved working with his hands--taking things apart around the house and dragging around his tool belt and goggles before he could even truly "toddle." Yes, from the beginning I began to ask the Lord how it was He had made this child so different and what it was He had for this young man's future.
Now, I don't know what the tune "Pomp and Circumstance" does for you, but every time I hear that sweet melody, I always tear up and think of a bright future that awaits the graduates before me. I've dreamed of watching my son graduate from the time he first held a pencil in his hands (which was before he could walk). Yes, I had big plans for my son. So needless to say, when going to school was not as exciting for him as it was for me, I couldn't figure out the problem.
It started in preschool. He liked his friends but the teachers all said the same thing, "Justin has a difficult time staying still for story time," or naptime, or any other time that didn't involve him getting to do what he loved to do--build. So, I prayed, "Lord, what should I do? I mean, I know I'm a teacher and everything, but I don't know how to teach someone to be still." And the Lord responded, "Keep loving his differences, keep praying for him, and do not worry -- he's in My hands." So, that's what I did. And each and every year, including kindergarten, his teachers all said the same thing, "Justin is well liked by his peers. He has great presentation skills. He loves to build, but has a very difficult time sitting still for independent work and story time." AAGGHHH!!! After four years of hearing this, you really start to think something is wrong. Why won't he sit still? I didn't have a hard time sitting still! What's going on? So, I continued to pray, but I also spoke with my son about the necessity of sitting still, to which he replied, "It bores me to sit and listen. I just wish I could go build." Well, this situation worsened in kindergarten as the independent learning increased with learning phonics and writing skills. Each morning, before I'd drop Justin off at school, he'd ask me, "Mom, can we make this a special day and you can pick me up early?" Once in a while I would, but I really tried to stay firm in not picking him up early, hoping he would understand how important school was.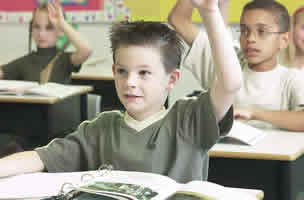 Kindergarten ended and Justin graduated with good grades, yet he still had the "attention thing" going on. Justin let me know after his kindergarten graduation that he was done with school and that he just wanted to be a mechanic. My heart broke. How could my son dislike school that much? I began to have some friends pray (not knowing they were involved with an organization called Moms In Touch -- a group of mothers who get together to pray for their children's schools). After much prayer, my husband and I decided that I should stay home and school Justin in a strong phonics program (he absolutely despised reading) as well as in how to sit and do work independently without tons of squirming, frustration, etc. That year was amazing in so many ways. God was faithful, though many times I wanted to quit. I learned that Justin saw things so differently and he was later given the title, "a divergent thinker" by one of his test proctors. She went on to explain how creative and imaginative these thinkers are, but that it was very important for us to teach Justin how to function in a convergent world. That was my new mission, not graduation or grabbing for huge dreams, but to really pray for God's will for Justin's life and then follow through by teaching him to keep his individual strength (the divergence) while learning how to tame it in the big arena of convergence.
Over the next few years, I met more friends who were a part of the Moms In Touch, and they continued to pray alongside me for Justin. Each year was a faith walk as we tried different schools, different curriculums and learned more about his style of learning over the years. There was one thing that didn't change through all of it, though. Even with Justin's successes, he still had no desire to go to school, and he still just wanted to move onto being a mechanic. AAGGHHH! "What do I do Lord?" God's reply? "Don't stop praying."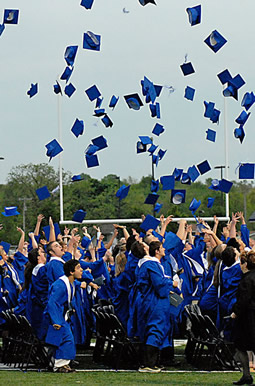 Well, my sweet boy is now a teenager. He is a seventh grader, playing football and making honor roll. English is still his least favorite subject, but God has done something amazing in him, and in me if I'm to be honest about the whole thing. With Justin, God's given him a love for learning as well as a sense of responsibility. It was just this morning, in fact, that I was not feeling well and going to take Justin in late for school because I was just feeling that bad. When all of a sudden, he whipped around and said, "But Mom, I have the Fine Arts Festival next week and I really need to be there to practice. I can't let my teacher down. Plus, I have my science test second bell and I really don't want to have to make it up on Monday. Oh, Mom, you just have to get me to school." Well, for those of you who either have shared or currently share my pain of having a child who hates school, you can imagine what a shock this was for me! Had God changed this child's heart somewhere along the way? For that matter, had He changed mine, too? You see, what I realized was this: My dreams for Justin were no longer "my dreams," but they were God's dreams and hopes that I was helping to carry out in Justin's life. I realized that this race to graduation is no race at all, but it's a haul and a long haul at that. It's a journey with God, and even after the "Pomp and Circumstance" has played its last note, the journey still goes on. That child, now a grown teen, has new adventures and new challenges to face and hopefully, along the way, his/her parents have taught that this journey should only be taken with God because that's what it's all about. A race is spectacular as you pass the sights and cross the finish line, but if you've just travelled it alone with no insight, experiences or joy, then the race was really nothing at all. God is the answer to making our children's lives have meaning and purpose and fullness. I thank my friends from Moms In Touch as they continue to pray for my son. Praying for God's plan has changed my heart and expectations, although I must admit I still pray for that glorious day when I get to watch Justin walk in his regal cap and gown, cross that stage to receive his diploma--all while hearing the melodious tune of "Pomp and Circumstance" playing in the background. . . the tears are trickling down my face already.
Jeremiah 29:11
"'For I know the plans I have for you,' declares the Lord, 'plans to prosper you and not to harm you, plans to give you hope and a future.'" (NIV)
Prayer For Other Moms:
"Dear Lord,
I want to begin by thanking You for loving my child more than I could ever imagine loving him/her. I know that You have given him/her special abilities and I pray that as he/she grows that You will help reveal these gifts to me. Show me how I can help and guide my son/daughter. Be with me--that my motives and desires for his/her life will always be pure and right, after Your own heart. Thank You, God, for giving us this day and protect (enter child's name) physically as well as in his/her heart, his/her mind and his/her soul. I give (enter child's name) to You today.
In Your Precious Name,
Amen"
Copyright © 2008-2015 A Mom in Virginia
---
Post Your Comment...
---