His Extended Grace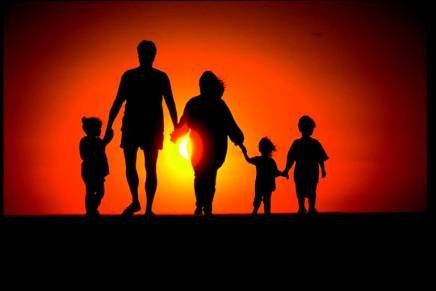 Ah! The joys of parenthood, it's all a dream. When we first learn we are going to be parents, we begin planning what kind of parents we want to be. PERFECT. Nothing less will do. All the other parents we have seen haven't learned how to do it. There will be no yelling, spanking or need to correct, after all, our children will be PERFECT. Then reality hits. How can this one who is so little make so much noise, especially at two in the morning, or maybe because it is two in the morning they just sound louder. They cry when they're wet, or hungry, or just because, and we love it. It gives us a reason to hold him/her and cuddle with them. Then number two and then three comes along and it's not so cute, not when the other two are fighting and grape juice has been spilt on the new carpet. One does learn to cope and somehow still maintain sanity.
Time passes and personalities develop in three different ways. Again, patience is pushed to the limit. Love abounds, but all is not PERFECT and you begin to realize it probably never will be. However, you do adjust to the real life and the responsibilities of raising children and disciplining them with a Christian perspective.
Life goes on; they get older; things get more hectic with all their activities. There is too much to do to spend quality time with them. Money doesn't seem to stretch far enough to cover all the unexpected expenses. "I'm sorry, Mom," seems to be the phrase of the day, 365 days a year.
We get so caught up in the daily hubbub; we give no thought to tomorrow. It seems as though those days will never end. Then one day it all comes to a sudden halt when along comes that special someone who will take your child for their own, and will also take first place in their heart.
Suddenly, hind sight takes over. Remorse for time wasted overwhelms you. You regret the time you could have spent with your child when you felt other things were more important, punishment for things that were not really that critical or possibly not even their fault. So many mistakes; if you could only do it over. How much better a parent you would be, maybe not PERFECT, but better. You would treasure all those minutes and hours that made up the days and years you had your children with you.
God won't reverse time, but will extend grace. He creates a miracle in the form of grandchildren. Again, at first sight, love wells up, rich and deep, but different. Love, unencumbered by being the primary disciplinarian, is so fulfilling. A grandparent is able to overlook a multiple of faults and sees the cute in the intolerable. Discipline comes with a soft voice and num nums. Peek-a-boo and patty cake lasts as long as the child wants. Holding a sleeping baby until it awakens is completely fulfilling. Work is set aside and time stands still when we have the privilege to baby sit those precious darlings.
Then there are those shopping trips with loose purse strings and coming away with more that the child wanted because you thought that outfit was just too cute to pass up.
Sleepovers with their friends at Gramps and Grams were so much fun because "Gramps and Grams are just so cool." Besides Gramps bakes the best cookies.
There's the special joy of helping pay for that field trip to Washington DC, the first prom outfit and of course the first car, and all those special moments sharing their feelings about their parents, friends, and of course their boy or girl friend.
Then comes the day when they introduce you to that special someone they have chosen to spend the rest of their lives with. This time there is no looking back wishing you could have done it better. All you can see is the future when God will create more miracles that we will call great-grand-children, and it will begin all over again. Time will stand still, everything will stop and we will be transported to that magic land that is reserved only for grandparents.
Life is measured in increments of time. It is the greatest gift you can give, once given, gone forever. Other than Jesus, who would you rather give it to?
Copyright © 2008-2015 Sylvia Hensel
Read more about the writer: Sylvia Hensel
---
Post Your Comment...
---