< Back to Poems & Creative Writings
Redemption Set Free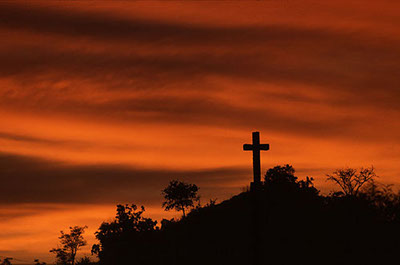 A cry was heard and pierced the heavens
Hope and faith danced for glee.
Promise and purpose rejoice in their fulfillment
As heaven eagerly awaited the return of its Son.
All of nature responded to the moment.
The earth shook and the mountains trembled.
The winds blew the clouds into a frenzy,
And the trees bowed down before their Creator.
The temple foundation rocked,
And that which held man
From seeing the face of God
Was rent in two from top to bottom.
Redemption burst forth from its confines
As it heard the sound of the cry
Which held it captive for so long,
"IT IS FINISHED."
Time could not contain it for the cry shall continue
Throughout the universe until the day
It is joined by the sound of the trump of God:
And the dead in Christ shall rise first:
Then we which are alive and remain
Shall be caught up together with
Them in the clouds, to meet the Lord in the air:
And so shall we ever be with the Lord.
As the cry fades away,
It is replaced by the heavenly choir
And the angels singing, "Amen and Halleluiah"
And this cry shall never cease.
"Jesus, when he had cried again with a loud voice, yielded up the ghost." Matthew 27:50 (KJV)
"When Jesus therefore had received the vinegar, he said, It is finished: and he bowed his head, and gave up the ghost." John 19:30 (KJV)
Copyright © 2008-2015 Sylvia Hensel
Read more about the writer: Sylvia Hensel
---
Post Your Comment...
---