< Back to Kitchen Keeper Recipes
Chilled Raspberry Soup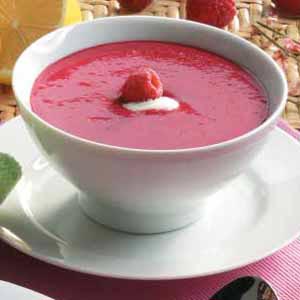 This gazpacho recipe from the Holland America Cruise Line is a yummy treat for berry lovers!
Serves 6.
INGREDIENTS:
2 pints fresh raspberries, gently washed
2 cups sour cream
1 cup whole milk
1 cup ginger ale
1/4 cup sugar
2 tablespoons triple sec
2 tablespoons fresh lemon juice
DIRECTIONS:
Reserve 6 raspberries for garnish.
In a blender or food processor, puree the remaining raspberries until smooth.
Strain the mixture through a fine sieve over a nonreactive bowl, pushing through as much of the pulp as you can, leaving the seeds behind.
Whisk the remaining ingredients, except for the reserved berries, into the puree.
Cover and refrigerate until cold.
To serve, divide the soup among chilled bowls and garnish with the reserved raspberries.
VARIATIONS: For chilled blueberry soup, substitute blueberries for the raspberries.
Copyright © 2008-2015 DeeDee MacDonald
Read more about the writer: DeeDee MacDonald
---
Post Your Comment...
---