Do-it-Yourself Nails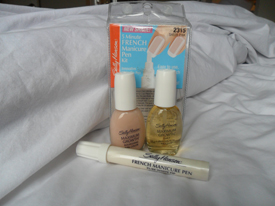 A couple of years ago, I discovered the neatest tip for doing your own French manicure and pedicure. I was visiting my sister whom I seldom get to see. We had just begun talking when I noticed how nice her nails looked with a clean, neat French manicure. I assumed she had gone to a nail shop for a professional manicure and pedicure.
When I told her how pretty they were, she said, "I did it myself." I was shocked. Then, she showed me the little kit she used from Sally Hansen. I had just seen that at Wal-Mart and had considered it but didn't think it would work. But it does!
I love this set and use it all the time now, thanks to my sister and friend. It's easy to use with the white tip applied like a marker pen. It's only about $8 or $9 and is less expensive than even one professional manicure.
Give it a try and let us know what you think.
Copyright © 2008-2015 Debbie Reynolds Harper
Read more about the writer: Debbie Reynolds Harper
---
Post Your Comment...
---