A Better Breakfast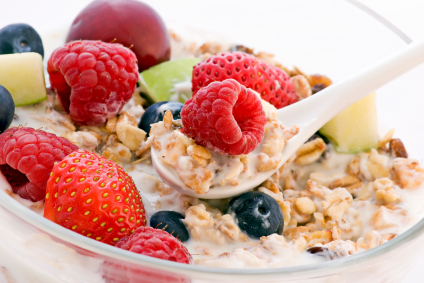 Eating a good breakfast is not my best habit; in fact, many times I don't have an appetite early in the morning. However, I recognize that the seasons during my life that I have paid attention to good nutrition early in the day have given me more strength and stamina. Recently my friend, Annette, gave me some ideas on what she likes to eat for breakfast and I think I'm going to try a better breakfast routine. Here is what she suggested:
Eat Clean Oats
1. How to prepare them?
Step 1: Add 1 cup of hot water to ½ c. uncooked oats
Step 2: Place a plate over your bowl to let oats "cook" for about 10 minutes.
2. How to top them?
When your oats are ready, feel free to add any one of the following:
- ½ c. mixed fresh (or frozen) berries
- ½ c. sliced (or mashed) banana
- ¼ c. unsweetened dried cranberries or raisins
- ½ c. unsweetened applesauce
- 2 T. slivered almonds (or any type of raw unsalted nuts).
3. How to flavor them?
You can enhance the flavor of your bowl with any or all of the following:
- pinch ground cinnamon
- pinch ground nutmeg
- pinch ground all spice
- ½ t. vanilla extract.
4. How to moisten them?
You can vary the moisture content of cooked oats by mixing in any of the following:
- ½ c. plain fat-free or low fat yogurt
- ½ c. plain Kefir
- ½ c. unsweetened applesauce
- 2 T. apple butter
- 1 t. natural peanut butter.
5. How to enhance them?
To enhance the health benefit, consider adding any or all of the following:
- 2 T. coarsely ground flaxseed
- 2 T. wheat germ
- 2 T. bee pollen
I hope you enjoy these ideas. I never thought of oatmeal as having this much variety. When we take care of ourselves, we are better able to take care of others.
Copyright © 2008-2015 Debbie Reynolds Harper
Read more about the writer: Debbie Reynolds Harper
---
Reader Comments...
2011-06-02 06:54:37
"Love this recipe, very healthy.

I like half cup cherrios, lite peach yogart, topped with quater cup blueberries,half banana,quater cup canned peaches, tablespoon of granola"


- Dee
---
Post Your Comment...
---