< Back to Kitchen Keeper Recipes
Roasted Salmon with Herbed Yogurt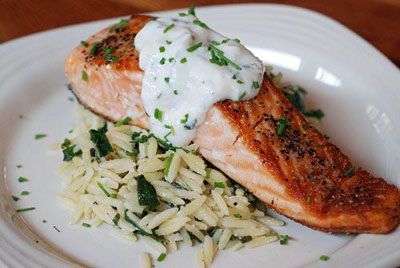 If you like roasted salmon, you'll love the flavor of this dish. This recipe was a popular one from Holland America Cruise Line Spa Cuisine that my husband and I had the recent opportunity to experience. It's wonderful to be able to bring these lively flavors home!
Ingredients:
1/2 cup Greek style yogurt
2 tablespoons Dijon mustard
2 tablespoons finely chopped fresh dill
2 tablespoons finely chopped fresh parsley
Kosher salt and fresh ground pepper
1 side of salmon (about 3 pounds) or 8 filets
Lemon wedges for serving.
Directions:
Preheat oven to 450 degrees. Combine yogurt, mustard, dill, parsley, salt and pepper. Place salmon skin side down, on a rimmed baking sheet. Spread yogurt mixture liberally on salmon.
Roast in the oven until opaque throughout, 15 to 20 minutes (8 to 10 minutes for fillets).
To serve, portion the salmon out and plate, leaving the skin behind. Garnish with dill sprigs and serve warm or at room temperature with lemon wedges. Recipe serves 8.
Note: for easy clean-up, line the baking sheet with parchment paper.
Photo credit to http://circle-b-kitchen.squarespace.com
Copyright © 2008-2015 DeeDee MacDonald
Read more about the writer: DeeDee MacDonald
---
Post Your Comment...
---