< Back to Kitchen Keeper Recipes
Chicken With Curried Spinach Salad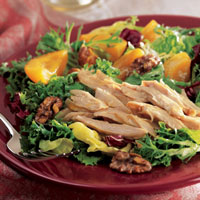 We recently had the opportunity to go on a cruise aboard the Holland America Line Cruise Ship. They made this quick spa cuisine recipe available to us. It's wonderful!
Ingredients:
4 boneless, skinless chicken breast halves
Coarse salt and ground pepper
1/4 cup seasoned rice vinegar
2 teaspoons olive oil
2 teaspoons Dijon mustard
2 teaspoons honey
2 teaspoons curry powder
10 ounces baby spinach
1 to 2 shallots, halved and thinly sliced (depending on size)
1/2 cup dried apricots, thinly sliced
Directions:
Place chicken in a shallow 2-quart microwave-safe dish with a lid; season with salt and pepper. Cover, and microwave on high until opaque throughout, 10 to 12 minutes, turning chicken halfway through. Let cool briefly; slice crosswise.
In a serving bowl, wisk vinegar, oil, Dijon, honey, and curry powder; season with salt and pepper. Add spinach, shallots, and apricots, and toss.
Recipe serves 4.
Copyright © 2008-2015 DeeDee MacDonald
Read more about the writer: DeeDee MacDonald
---
Post Your Comment...
---