< Back to Kitchen Keeper Recipes
Thai Wraps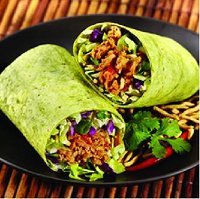 We recently tried Jasmine Rice and it was aromatic and flavorful. The Success rice in the bag made it so easy, quick and simple, it was a delight! Thai food is one of my favorites and I totally love peanut sauce with almost anything! This recipe will offer variety to your dinner table and taste buds!
Ingredients:
1 Bag Success Jasmine Rice
1 Can (15 oz.) light coconut milk
1 Cup salad shrimp, cooked
1 Cup mango, peeled and diced small
1 Cup green onion, minced
2 Tbsp cilantro, snipped
2 Tbsp roasted salted peanuts, chopped
1 Tbsp sesame oil
1 Tbsp seasoned rice vinegar
1 tsp soy sauce
1 tsp Thai green curry paste
4 burrito size spinach tortillas
warmed peanut sauce, optional
Directions:
Prepare rice according to directions on box, substituting coconut milk for 2 cups of water
Place rice in large bowl and stir in remaining ingredients (except tortillas) until well combined
Equally divide mixture and spoon on warm tortillas
Roll up and serve
Serve with peanut sauce if desired
Note: Thai green curry paste can be found in the international aisle at most grocery stores
Copyright © 2008-2015 Debbie Reynolds Harper
Read more about the writer: Debbie Reynolds Harper
---
Post Your Comment...
---