The Battle of the Orange Shower
I've been at war for the seven years we've lived in my home, at war with the water in my shower that stains the walls and floor orange. I'd buy every cleaning product advertised and scrub with all my might. Maybe I'd get it a little less orange-tinted, only to shower the next day and have orange-colored shower walls all over again. Something in our well water has made this an unending battle.
The only thing I had managed to do successfully was scrub down the walls with a Magic Eraser. This worked, but it also took an entire Magic Eraser to clean the shower one time. This would become a fairly expensive solution over the long-term.
Then a friend recommended "The Works" to me. It removed the orange rings around each of my sinks and the orange streaks in my shower in seconds. They just disappeared; I didn't even have to scrub!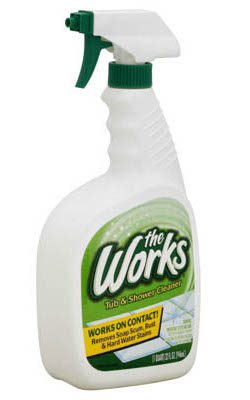 Unfortunately, it also filled my bathroom with toxic-smelling fumes. It was strong enough to sting my lungs if I breathed it in and make my eyes water. When I used it, I'd send all my children out of the room, open any available windows and turn on the bathroom vent fan. I endured all this--just so my shower would be white and not orange!
Then another friend (can you see I talk about this problem a lot?!) told me that there is a similar product specifically for showers—"The Works: Tub and Shower Cleaner." Eureka!! She even bought me a bottle from the dollar store (which is the best place to find it!) It still cleans up the orange stain, slightly less quickly, but without the fumes.
I've also managed to keep the shower from turning orange quite so frequently by spritzing it with "Arm & Hammer Clean Shower" after each use. This is such a quick and simple way to reduce my marathon shower cleaning sessions.
So, if you've ever donned rubber gloves and scrubbed at your shower in a war against the orange stain, consider trying "The Works: Tub and Shower Cleaner" and " Arm & Hammer Clean Shower." It may help you win the war!
To keep up with Heather King, visit her blog at http://heathercking.wordpress.com/
Copyright © 2008-2015 Heather King
Read more about the writer: Heather King
---
Reader Comments...
2011-06-08 10:48:42
"Thank you so much for posting this tip! I too have issues with the orange running down the walls from when the handles were leaking. I am going to the Dollar Tree today to find The Works! :) God bless~"
- Jan
---
Post Your Comment...
---