A Horse From Out of Nowhere!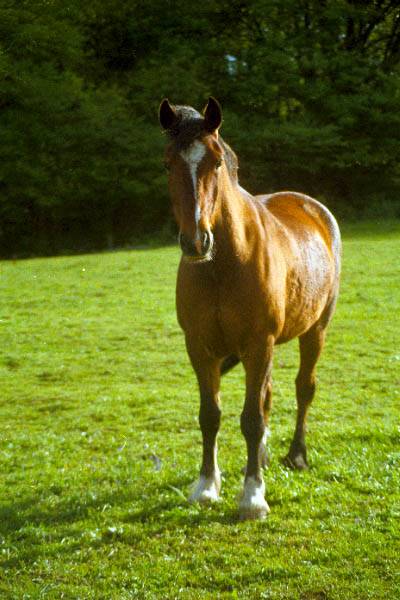 It was an otherwise ordinary day that I was working in my office, when something out the window caught my eye—it was a horse galloping down the paved streets of our neighborhood. I told the children, "Look guys, it's a horse in our neighborhood, isn't that interesting!"

A few moments later, I heard a knock at my door; it was a painter who had been painting the exterior of our neighbor's house across the street. He said, "Ma'am, I don't want to bother you, but I thought I should let you know that a horse just ran into the back of your van that was sitting in your driveway."

I thanked the gentleman and began to close the door telling him that I appreciated his having let me know. Then he continued, "You may want to come and see it, there is quite extensive damage." I thought, to myself, "How could it be so bad, it's just a horse?"

Well, I soon found out how much damage a horse can do. I followed the man down my driveway to where the horse had run full-speed ahead into the back of our van. There was glass shattered everywhere! The back door hatch was smashed in and the fiberglass exposed where the metal was significantly dented in.

He explained that the horse had been in the nearby horse-farm with the standard horse blankets and hoods they put on in cold weather, when another horse had accidently pulled down the hood causing the horse to get spooked and panic. He had run through the fence, breaking it and run through the neighborhood without being able to see, since the hood was covering his eyes. The horse trainers were trying to bring him back to safety.

Although I was concerned about the well-being of the horse, I was thinking to myself, "Well, this is the last thing, we need here right at Christmas—we surely don't need one more thing to take care of or one more expense!"

But what seemed to be an inconvenience turned out to be a blessing.

We were to find out later that the horse had done $1500 dollars in damage. When we received the settlement payment for the expenses it was enough to cover not only the damage and expenses but the amount of the check made it possible for us to afford a thoughtful gift for each of our children for Christmas, gas for the vehicle to visit our family out of town for Christmas, and even provide treats for the children's Christmas stockings--none of which we would have been able to do otherwise.

Although for the last two years, the Lord has allowed us to go through a very lean time with our finances; he has also sent many reminders that He is not limited on resources, nor the creativity to get the resources to us just in time! We serve an amazing God whose ways are higher than our ways! And He does truly work in mysterious ways!

We will always remember that amazing story! Incidentally, the horse's name was Apollo. We now call our van, "Apollo's Chariot!"
Copyright © 2008-2015 Debbie Reynolds Harper
Read more about the writer: Debbie Reynolds Harper
---
Post Your Comment...
---