Hanging Wall Groupings Well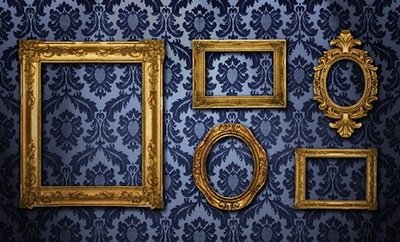 One of the neatest looks in home décor is a wall-grouping presented neatly and artistically. Here are a few tips and recommendations for you to consider when placing your art or photos in a grouping together. Always experiment with different arrangements and combinations of pictures before starting to hang any of them. There are two ways to arrange pictures: Symmetrical and asymmetrical. Symmetrical groupings create a more formal feeling while asymmetrical arrangements are more casual.
Items that are the same or similar in size, shape, and/or other attributes lend themselves to symmetrical arrangements -- one in which items are hung equally around a center line or point. It is easier to create balance with a symmetrical grouping, but it is not difficult to balance an asymmetrical grouping either, although you'll have to rely on a bit of trial and error to create visual balance instead of a level and ruler or tape measure.
A grouping of pieces different in size, shape, color or other attributes will work better in an asymmetrical arrangement. Such a grouping should be hung so that the visual weight of the objects appears balanced. One way to do this without making a lot of unnecessary holes in your wall is to lay out the arrangement on the floor first, adjusting the grouping until you have arranged the items in the most pleasing (least lop-sided) way.

You could also trace the outlines of the items onto a roll of newsprint or inexpensive paper (that will contrast with your wallcolor) and arrange those on the wall with a hinge made of blue painter's tape on the back. (Other types of tape may remove paint from your wall.) Hint: If you are working with different sizes, keeping the larger pieces on the bottom of the arrangement will anchor your arrangement and keep it from looking top-heavy. Reposition the shapes until you are pleased with the arrangement and then use that as a guide for hanging the actual items.Bear in mind that a vertical arrangement makes a room appear taller and a horizontal arrangement makes it look wider.
You might also want to consider hanging one larger item surrounded by a circle or rectangular arrangement of smaller pictures. This type of arrangement is particularly effective for displaying a group of photos on a hallway wall. Whichever arrangement you choose, frames and mats should complement both the artwork and your decorating style or theme. A framed mirror can add dimension and light, and is especially effective when it reflects something beautiful, such as a window overlooking a garden or an indoor flower arrangement, for example.
Do not be afraid to hang artwork with a mirror as part of the group. Unless a mirror is large enough to look balanced on a wall by itself, you can keep the proportion pleasing by adding pictures next to or around the mirror. Once you decide on an arrangement, start hanging from the center or largest item and then, if there is more than one item in the center of your arrangement, hang any that go above and/or below the central piece. Continue out, hanging items from top to bottom, until all of your pictures have been hung.
Whether you use picture hooks, molly bolts, toggle bolts, picture nails, or some other method will depend on the type of wall construction and surface, so be sure you have the right type of fasteners available -- and if your home is a rental, you may be restricted to non-invasive methods such as suspending frames from a railing or keeping your artwork lightweight enough to use magnetic or peel-and-stick types of picture hangers.
Enjoy a new look!
Copyright © 2008-2015 Debbie Reynolds Harper
Read more about the writer: Debbie Reynolds Harper
---
Post Your Comment...
---