Speak for Yourself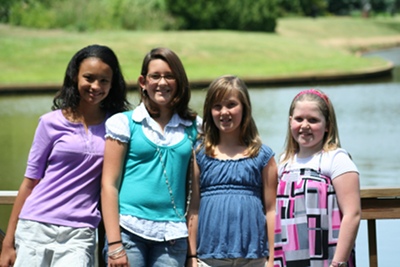 It's easy for me to become a "hovering mom," who does everything for her children, protects them from every bad situation possible . . . and answers questions for them at the grocery store, at church, at the doctor's and more.
This year, though, my two oldest girls are headed to the public school for the first time and I won't be there to talk on their behalf to the teacher or speak up if they need anything. They'll need to speak for themselves.
We've been working hard at this basic skill of training children how to speak to adults and this is what we've covered:
Speak loudly and clearly, with confidence – My daughters have a tendency to whisper or even slide into baby talk if they're truly nervous. They need to speak in order to be heard and understood.
Say "yes, sir," "yes, ma'am," "please," and "thank you" whenever appropriate.
Children do not call adults by their first names (unless expressly told to do so). Instead, we default to Mr. Smith, Ms. Smith or Mrs. Smith. Then, if the adult chooses, he or she can decide to be called by Mr. John or Mrs. Jane instead.
Look up and make eye contact rather than gazing all around the room or turning away while speaking.
These basics of speaking to adults may seem so simple to grown-ups like us, but to little ones this usually takes explanation and training. Practice makes perfect, so I'm trying to quiet myself and let my daughters do the talking whenever practical and possible.
Copyright © 2008-2015 Heather King
Read more about the writer: Heather King
---
Post Your Comment...
---