Boxing Day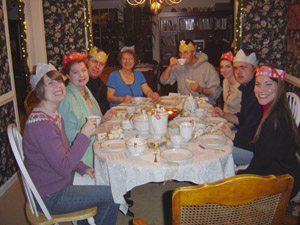 December 26. Boxing Day. For years I thought they had named a day for people who were ready to box up their Christmas decorations as fast as possible. As soon as Christmas was over, this day would be for those ultra-efficient, no-lingering-allowed kind of people. When I would see that day on the calendar, I didn't understand what it was all about. But a few years ago, I was delightfully introduced to the joys of the English and Canadian holiday by some family friends.
My family's friends belonged to the Anglican Church of England whose custom was to have a donation box that people would fill throughout the month of December. On Christmas Day, the boxes were opened, and on the 26th, all the money would be given to the poor. To celebrate the day, our friends would invite us and various others to their home to share endless pots of Christmas tea, accompanied by fresh cream and sugar, tea sandwiches, trifle, real homemade fruitcake, and the most delicious little mincemeat pies.
Each guest received a Christmas cracker, which wasn't food at all, but a decorated paper tube filled with treasures and rigged with a noisemaker. Each of us would pull one end, while our neighbor pulled the other until it gave its loud "crack," broke open, and spilled its contents. Inside was always a paper crown to wear throughout the evening, a joke to fuel the laughter, and a little toy to keep. We had so much fun visiting and enjoying their custom.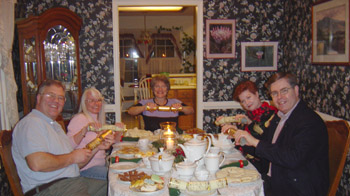 A couple of years ago, our friends moved away. We miss sharing the holiday with them, but the first year after they moved, they sent us their fruitcake and encouraged us to carry on the tradition ourselves. My mom brought out my Oma's beautiful tea set, found some crackers, and invited friends to bring along their special holiday treats. She made tea sandwiches and mincemeat pies, and we all wore the paper crowns. I love discovering fun new traditions, and when they remind us of friends, they're even better.
Copyright © 2008-2015 Sarah Lentz
Read more about the writer: Sarah Lentz
---
Post Your Comment...
---