< Back to Kitchen Keeper Recipes
Homemade Lemon Bars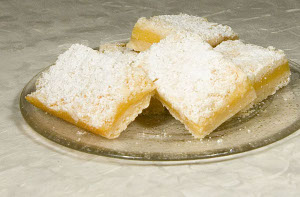 My friend, Gretchen Crook, and her family recently brought this yummy dessert to our home and everyone gobbled them up! They were so warm and delicious. The shortbread-style cookie base is wonderful, and the bars are just right—not too sweet like the store-bought ones. When we realized how good they were, of course we had to take a picture and Gretchen offered to give me the recipe so that I could share it with all of you! I hope you enjoy it as much as we did!
Directions:
Combine:
2 cups flour
½ cup powdered sugar
Add:
1 cup slightly softened butter (cut into mixture with pastry blender until crumbly. Press into 9x13 slightly greased pan. Bake @ 350 for 20-25 minutes.
In Another Bowl:
Whisk together:
4 eggs
2 cups sugar
1/3 cup lemon juice (fresh or not)
Combine in separate bowl:
1/4 cup flour
½ tsp baking powder
Add to egg mixture and whisk.
Pour egg mixture over baked crust.
Bake @ 350 for 25 minutes more or until set.
Let cool-cut and sprinkle with powdered sugar.
Enjoy! Thanks again Gretchen!
Copyright © 2008-2015 Debbie Reynolds Harper
Read more about the writer: Debbie Reynolds Harper
---
Post Your Comment...
---