< Back to Strength for Your Spirit
My Help Comes From the Lord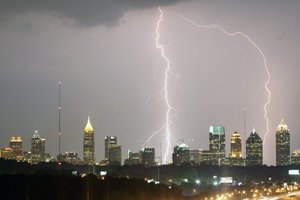 Ever felt like running away and hiding from life? Move over your not alone. As a health professional, I work with people from all walks of life. Although I have observed differences among people in their journey, life's challenges often cause individuals and families alike to feel alone and vulnerable. Questions, doubts, and hopelessness begins filling their minds. In those times, it is difficult to maintain a positive perspective. But if we are willing to hear Him, God will speak to us through fervent prayers, studying of His Word, and observing His marvelous creation. He will speak if we will listen.

Just the other evening, sounds of thunder in the distance caused me to look out the window. A large dark white-capped cloud caught my attention. Lightening streaks against the darkness displayed an amazing light show. It was such an unusual event that it was reported on the local morning news the next day. As I watched continuous powerful lighting streaking through the cloud, I was reminded of the unfailing power and enduring faithfulness of God in our daily lives.

The darkness of the cloud represents the circumstances we often find ourselves experiencing. While in the midst of darkness, God's power is continuously at work in our lives helping, keeping, protecting, and preserving us from harm. Inspired by God, the psalmist provided encouragement for those times when we feel down trodden.
Psalm 121 (NASB)
The LORD the Keeper of Israel.
A Song of Ascents.
1 I will lift up my eyes to the mountains;
From where shall my help come?
2 My help comes from the LORD,
Who made heaven and earth.
3 He will not allow your foot to slip;
He who keeps you will not slumber. 

4 Behold, He who keeps Israel
Will neither slumber nor sleep. 

5 The LORD is your keeper;
The LORD is your shade on your right hand.
6 The sun will not smite you by day,
Nor the moon by night. 

7 The LORD will protect you from all evil;
He will keep your soul. 

8 The LORD will guard your going out and your coming in
From this time forth and forever."


I would encourage you to begin each day by reading Psalm 121 for a month and allow God to minister to your spirit.


Prayer
"Lord, I come before you with a heart of thanksgiving. You are my helper, my keeper, my protector, you preserve my spirit from harm. As I commit myself to read your word, change my heart so that I can see my circumstances through your eyes. In all I say and in all I do, I seek to glorify you for you are worthy. Amen"
Copyright © 2008-2015 Ruth Van de Riet
Read more about the writer: Ruth Van de Riet
---
Reader Comments...
2009-08-07 21:01:42
"Ruth,
Thanks for the encouraging article. Karl and I are mourning the loss of his Mom. She was my Naomi, my spiritual mother. We loved her so much and even though we know she is with Jesus, we miss her so much. I will begin reading the psalms the next few weeks as my devotions. Thanks for the inspiration.
Love and Prayers, "
- Linda
---
Post Your Comment...
---