God Doesn't Waste a Thing - Part II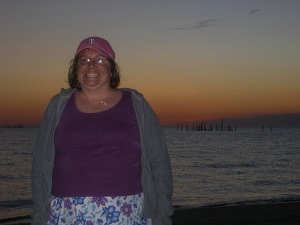 In a previous article, I shared the glory of God's goodness in never wasting an event or difficulty in our life. The pain, the sorrow, the tears are never wasted by our Heavenly Father. He uses them for HIS perfect will, in HIS perfect time. As it says in Romans 8:28 (NKJV), "and we know that all things work together to good for those who love God and are called according to His purpose."
The key is remembering that God's timing is rarely our timing. After I wrote the previous article, God showed me once again that things that have happened in my lifetime were moments of equipping for the purposes He has for my life. God used the lessons I learned and the skills I mastered to serve Him in my law practice.
This time, it involved the things I've learned helping my half-sister Heather. Heather is developmentally delayed and schizophrenic. I'm pleased to report that she is a healthy, happy young woman living a rich and productive life. But it was not always that way. You see, Heather was not receiving the medical and psychiatric care she needed to be a fully functioning member of society. That is when my husband and our two sons made a decision unto the Lord that no matter what it took, we would get Heather the help she needed.
That process involved getting her the benefits she needed to receive proper medical care, a safe and healthy living environment, and provisions for food, clothing and shelter. She needed a delicate balance of assistance and patience: assistance to do the things she cannot accomplish on her own and patience to understand when her level of cognitive functioning prohibits her from completing a task one might think she should be capable of doing. It also meant numerous trips to the psychiatric hospital, especially after our mom's suicide. Heather needed the wisdom of Christ and the Holy Spirit dwelling within her to be able deal with the attacks from Satan and the hallucinations. She needed the love of her family and friends when she failed, just as she needed the support, love and encouragement when she succeeded. She finds all these things in the place she now lives. It's been a long road over the past dozen years; however, Heather is amazing and doing better than anyone could have imagined.
All those experiences came full circle recently when I was appointed by the court as a Guardian ad litem for a teen who had been committed to a psychiatric hospital. Although I had never been the attorney on one of these cases before, I had a multitude of experience in helping my sister which uniquely prepared me to help my client. I also could understand the feelings of family members who are struggling with the realities of the psychotic episode they have been going through with their child or loved one. I understand those dreams that are dashed when one first hears the diagnosis of a major mental illness. I am able to minister the love of Christ to my clients and their families in a way that far exceeds my skills and license as an attorney. I have been appointed to many of these cases recently, and I am so thankful to serve my clients and their families through a difficult time in their lives.
There are times in life when you do things for love that you would never do for money. For me, I'd gladly change my children's dirty diapers, though I'd never do so as a job. I highly respect those caregivers who watch other people's children with love and dedication. That's not who I am, but that doesn't mean that God can't use me in a pinch to help another mother with her child. Likewise, the things I learned out of helping my sister because of love, I can now use to help my clients and their families dealing with unspeakably difficult situations.
You see, God doesn't waste a thing. If you are at that place where you cannot possibly fathom how God could use your circumstances for His glory, just be patient. He will, just like He continues to use the difficulties and lessons I learned in caring for my sister to meet the needs of parents and teens walking that same road. And Heather is blessed, too, knowing all she went through can be used by God each time I get one of these cases. God, in His infinite wisdom, can make beauty from ashes because He never wastes a thing!
Copyright © 2008-2015 Kerriél Bailey, Esq.
Read more about the writer: Kerriél Bailey, Esq.
---
Post Your Comment...
---