First impressions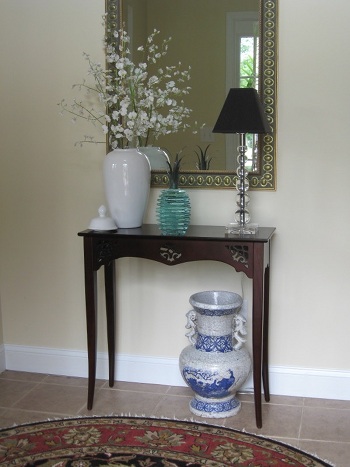 When decorating our homes, we often begin with the rooms we live in most such as the family room or kitchen. However, beyond the landscaping and front door, the entryway is the first impression and should always be at its best.

When we enter and exit our homes , most of us use the garage door or back door, so it is easy to forget about the image visitors get from the foyer or entryway. But these spaces should be considered rooms just as well as any others in the house and furnished according to their function. In addition, guests should be able to get a taste of what's to follow in the rest of the house.
It's best if the décor style and color scheme are in keeping with at least the common areas of the home; this creates the most continuity. Three basic necessities should be accommodated for:
A place for coats, hats, umbrellas, purses and shoes (so keep those coat closets neat and tidy as well)
A place for a quick visual check, grounded by an appropriate table and a decorative mirror.
Sufficient but soft lighting.

Remember, in your entryway, you are literally putting your best foot forward. Be sure it is attired attractively.
Copyright © 2008-2015 Kristy Beelendorf
Read more about the writer: Kristy Beelendorf
---
Post Your Comment...
---