Ruby Red Slippers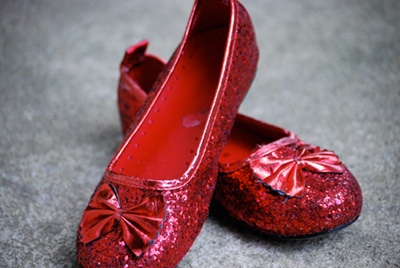 The timeless classic, The Wizard of Oz, is the story of a little girl who wakes up in a strange land and embarks on a journey to find the wizard so he can help her get home. Having a three-year-old whose current obsession is this tall tale, I have lived and breathed it for quite some time now. . . we've watched it, we've acted it out – pretending to be an array of characters – and lately it has been the top choice for bedtime stories.

You would think with this story being told and retold time after time, I would have gotten all I could out of it. But – it wasn't until tonight that I realized there was a huge picture I had been missing out on. Dorothy spends all her time and efforts trying to get to the wizard because she believes that he is the one who will get her home. But if you've seen the movie, you know that, in the end, he fails her. The very thing that gets her home is something she had all along – her ruby red slippers.

This really got me thinking. . . how many times in our lives do we wholeheartedly pursue "the wizard" when we already have "the slippers"? How often do we get the idea that we know the solution and exhaust all our efforts to try and get there, only to arrive at a letdown, a letdown that could have been avoided if we would have realized that we had possessed the true answer all along.

Too many times we get so caught up in what we think is best for ourselves and our families that we forget that God has the answer and has had a plan all along – and not just a plan, but a better plan than we could ever dream up on our own.
Proverbs 19:21 says:
"We humans keep brainstorming options and plans, but God's purpose prevails." (The Message)
Okay, so cover up your toes if you're afraid they may get stepped on! Ready?

Now ask yourself, "Am I guilty of seeking out my own plan before I consult God for His purpose? Do I get so wrapped up in brainstorming my own options that I forget to go to the One who created me?"

If the answer is yes, then I want to encourage you today to be willing to let go and rely on Him a little more. Be confident that the One who made you has your best interests in mind.

Jeremiah 29:11 says:
"I know what I am doing. I have it all planned out – plans to take care of you, not abandon you, plans to give you the future you hope for." (The Message)

Isn't that exciting?! Not only does God have it all planned out, but He also wants to give you the future you hope for! So rest in that today – and as you travel down your yellow brick road, always be willing to check for your "ruby red slippers."
Copyright © 2008-2015 Tiffany Hester
Read more about the writer: Tiffany Hester
---
Reader Comments...
2010-01-30 08:58:26
"Tiffany...what an awesome thought...thanks for sharing...I am glad to have you as a cousin-in-law! Take care! Love to you all!"
- Michelle
---
Post Your Comment...
---