A High Price Paid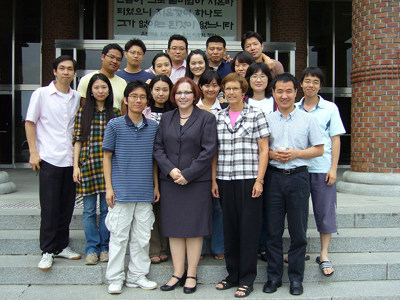 Have you ever thought about what it costs to follow Christ? I admit I've never really given it much thought until this summer.
You see, I just spent five weeks teaching a summer session of Legal Writing at an International Law School in Korea. The school itself, Handong International Law School, is Christian, but unlike the schools in the United States which can require adherence to certain religious beliefs, Korean education laws prohibit such requirements for admission. For example, a religious school in the United States could require students to sign a statement of faith in which they consent to be governed by the rules of the school, even if the rules are more restrictive than the laws of their particular state. In Korea, though, it means that there may be students at a Christian university or law school who are not Christian.
While Korea has a very devout Christian population, Christians still are only about 25 percent of the population. Korea has been historically Buddhist, and approximately 23 percent of the population still adheres to those teachings, so Buddhism is still quite ingrained into society. Furthermore, the entire society functions in a very class-oriented way. This means that adult children, especially women, rarely, if ever, make decisions for their lives without the express approval of their fathers. It is very unusual for Koreans to go against the wishes of their family, especially their fathers.
Such was the case with many of my students this summer. Coming to Korea, and especially to a Christian law school, I assumed that the students would be devout, long-time Christians. But it surprised me how many of them were relatively new believers in Christ, and many were the only Christian in their entire family. Many of the students, particularly the women, were hungry to have a female law professor. Beginning the first day I taught, and continuing virtually each day while I was there, students would stop by my office and ask to speak to me. Many of them simply wanted to listen to my stories about law school and being "a successful woman attorney in America." Others simply wanted the listening ear of another woman.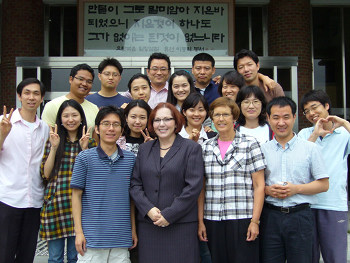 It was during these times that my students would share their deepest hurts and fears. Some were typical of law students in general, like "Am I smart enough to finish law school?" and "Did God make a mistake calling me to the field of law?" But other students would share their deep fears because the decision to come to Christ was the first time in their lives that they had gone against the wishes of their parents.
One student, whom I will simply call Sarah, told me about her conversion to Christianity. She explained that there were generations of Buddhists in her family, many who are high within the Buddhist religion. One of her aunts is even the chief monk at a temple named after Sarah's grandmother. Even so, Sarah came to a saving knowledge of Christ, which made her family very, very angry, particularly her father. He regularly ransacks her room looking for anything related to Christianity. If he finds something, he destroys it. We have such freedom to follow Christ in our daily, American lives. Sarah explained that when her father is finished searching her room, it is practically destroyed.
During one of those searches, he found a card from a fellow Christian congratulating Sarah on her baptism. The most shocking part was what she told me next. Between sobs, Sarah said that when her father found out that she had been baptized, he was absolutely furious with her. Besides yelling and berating her, he grabbed her, threw her to the ground, grabbed some scissors, and cut off all her hair! Can you imagine?
This young woman sat in my office and just wept over the humiliation of having her hair cut off. She has no regrets about accepting Jesus as her Savior and Lord, but simply because she was baptized she paid the price of being humiliated and degraded. When I asked her permission to share this story with the readers of our online magazine, www.myfriendDebbie.com, she wanted to know why I would want to do that. I told her because she was very brave. She completely disagreed with me. You see, she told me those Christians in North Korea, Iran, or Afghanistan are the brave ones, not her.
Most of us have not had to pay such a high price for our faith in Christ, but I know I want to be more like her, willing to sacrifice everything for the sake of my relationship with Jesus.
Salvation? How Much Did it Cost You?
Copyright © 2008-2015 Kerriél Bailey, Esq.
Read more about the writer: Kerriél Bailey, Esq.
---
Post Your Comment...
---