< Back to Strength for Your Spirit
My Journey Into Prayer - Praying God's Will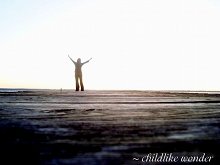 Praying His Perfect Will be Done
"As for God, His way is perfect: The Word of the Lord is tried; He is a buckler to all those that trust in Him." Psalm 18:30 (KJV).

"Thy kingdom come. Thy will be done in earth, as it is in heaven." Matthew 6:10 (KJV).

My fourth step into prayer was one of silence. In the silence I heard Him say, "Do you trust me?"
"Yes, Lord."

"Do you believe My Word completely?"

"Yes, Lord."

He then brought to mind this Scripture: "And this is the confidence that we have in Him, that if we ask any thing according to His will, He heareth us: And if we know that He hears us, whatsoever we ask, we know that we have the petitions that we desired of Him." 1 John 5:14-15 (KJV).

His Word tells us in James 3, "We have not, because we ask not(KJV). But what exactly do we ask for? Sometimes I become overwhelmed by the enormity of a need I bring before the Lord. To the human mind, there seems to be no answer. Some ne
eds are so great and far reaching I am at a loss as to what to pray for. The situation seems impossible and without solution. But we serve a God of the impossible. It is at those times that I pray for God's perfect will to be done. He is aware of the problem, and He has the answer for He understands us and knows what is best for us at all times.

His approach to a situation is so different from ours. Isaiah 55:8-9 tells us "His thoughts are not our thoughts, neither are His ways our ways. As the heavens are higher than the earth, so are His ways and thoughts higher than ours" (KVJ).
Therefore, it may be the very situation a person finds himself or herself in that will bring about the labor pains that will birth that soul into the Kingdom. Sometimes He uses the problem as a means of disciplining His child as a loving father would. At times we pray "Band-Aid" prayers which only cover the immediate need. God wants to get to the source of the matter, to the very root of the problem. It is His desire to bring complete healing to the situation.

Ephesians 3:20 tells us "God, who by His mighty power at work within us is able to do far more than we would ever dare to ask or even dream of – infinitely beyond our highest prayers, desires, thoughts, or hopes," (KJV). I would not want to pray amiss by asking for less than what God wants to give.

Christ is our supreme example of Christian living. He admonished us to help those that we know have a need if we have the means to do so, Since He is watching over everything that concerns us, it is apparent He is aware of our needs, and He definitely has the means to take care of all the needs, and it is His desire to do so.

I have been told that when we pray, we are to ask for a specific thing. Now, the one specific thing I ask for when praying for myself and others is that God's perfect will to be done in our lives. My soul then becomes free of the deep concerns for the problems I bring before Him, for He is a wise and loving God.

At this point, when I come before my King, I use each of the other four steps I have already taken:


I pray in the Spirit,
I pray the Word,
I pray through praise,
I pray in silent meditation, and now
I pray His perfect will for each person He has commissioned me to pray for.

This is my fifth step into prayer, and, like each of the others, I have been at this place for several years. Because of the time spent in His presence, I have gotten to know Him in depth. I have a better understanding of His heart, and my faith has grown by leaps and bounds. This fifth step is an accumulation of all the others and, again, one of complete trust. I don't think I could have arrived at this level had I not taken the previous four steps. It has been an incredible journey that I have been blessed to take. I know God is not done with me yet, and I am looking forward to what He has for me next.

God speaks to us individually. He leads each of us down different paths. Listen for His voice. Your prayer walk with Him is personal. He will lead you on a path that was cut out of the wilderness just for you. Follow His leading and you will find your journey filled with joy unspeakable and full of glory. I know it will be exciting and rewarding as mine has been.
Photo Taken by: Sarah Grice (childlike wonder)
Copyright © 2008-2015 Sylvia Hensel
Read more about the writer: Sylvia Hensel
---
Post Your Comment...
---