< Back to Strength for Your Spirit
Preparing Your Heart for Christmas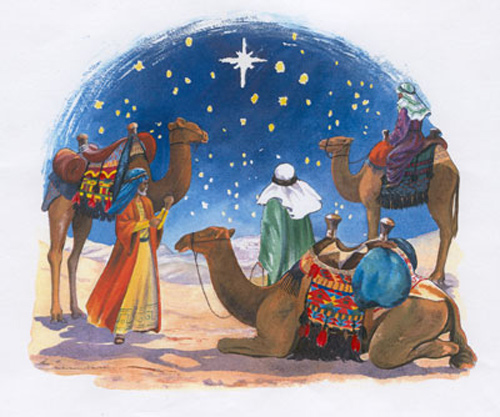 Christmas is my favorite time of the year. Excitement mounts as special treasures to please the oldest family member on down to the youngest will soon be wrapped and carefully placed under the tree. Preparations begin for family gatherings keeping in mind the favorite family recipes handed down from generation to generation. Decorations on the lawn, lights twinkling from the eaves of the house, and the Christmas tree filled with carefully placed ornaments add special warmth to our home.
It is a wonderful time of the year, but I am reminded that this celebration would be meaningless without the real reason for the season. This became evident to me as a song came over the airwaves of the radio. A simple song, sung by children, "Happy Birthday, Jesus, I'm so glad its Christmas," brought tears to my eyes. In response, I turned to the Matthew account of the visit of the Magi,who were longing and reaching to find the One who had been born King of the Jews. When the Magi first saw the star, they were overjoyed. They initially responded with their emotions. God has created us with an array of emotions, which become evident as we go through a given day. Think about the many ways in which you have already responded emotionally in this day. We are no different than the Magi. Their emotions revealed who was at the center of their hearts. How do we know this?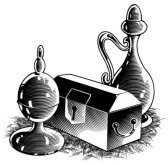 "On coming to the house, they saw the child with his mother Mary, and they bowed down and worshiped him, Then they opened their treasures and presented him with gifts of gold and of incense and of myrrh." Matt. 2:11 (NIV).
My question then is who is at the center of your heart? We all experience moments for which we are genuinely sorry for our behavior. The point is this: When we lay aside those moments of regret by asking for and receiving His forgiveness, it is then we can boldly come into His presence and respond by bowing down and worshipping. The words of Paul remind us of this:
"Brothers, I do not consider myself yet to have taken hold of it. But one thing I do: Forgetting what is behind and straining toward what is ahead, I press on toward the goal to win the prize for which God has called me heavenward in Christ Jesus." Philippians 3:13, 14 (NIV).
Just as we are preparing for our Christmas celebration, so must we prepare ourselves to respond properly to the One whose birth we celebrate not only at Christmas, but every day of our lives. This does not mean we won't struggle. It is in the struggle that we win because He is changing us to be more like Him. Lay aside those things of the past that rob us of the joy of bowing down and worshipping him. Just like the Magi, let us open our hearts and allow the treasure of praise to flow from our lips in honor of the King of kings and Lord of lords.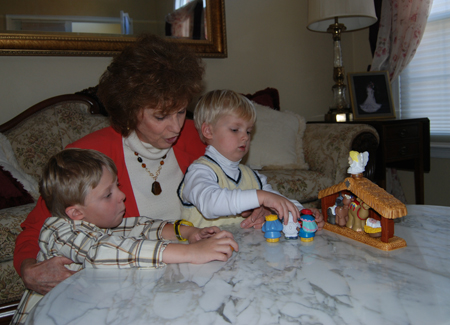 Ruth and her grandsons
References:
CD,
The Brooklyn Tabernacle presents Oh, What a Love,
written and Arranged by Carol Cymballa, Orchestrated by Lari Goss, WORD MUSIC, 1992
Copyright © 2008-2015 Ruth Van de Riet
Read more about the writer: Ruth Van de Riet
---
Post Your Comment...
---