Friend or Foe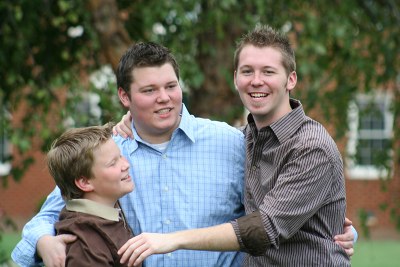 We recently had a dear friend stay with our children overnight while both my husband Billy and I were out of town. When we returned, she gave us the nicest compliment—how she was amazed at how much our children loved each other. She said she had always observed that about them, but now to witness it first hand, and without our being there, was to her, remarkable.
Cultivate Love
I thanked her for her kind remarks. Then I began to thank God for the love and care they do indeed show for each other and for the things that He has impressed upon our hearts that would help to cultivate that love over the years.
Our children certainly have their moments when they argue, blame, and fight with one another, but there is a stronger bond of love than that of discord that creates a special resilience.
Bonding and Brotherly Love
I grew up with mostly girls, and things were so genteel and pleasant in our home, that I wasn't quite sure how to deal with a house full of rambunctious and daring defenders, soldiers and warriors—that is—strong, powerful, mighty young men of God for the next generation.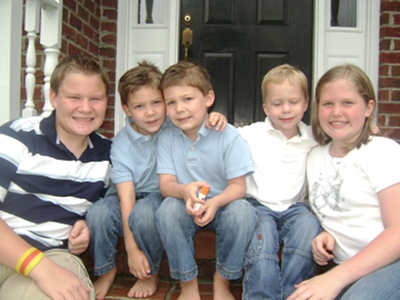 Taking the boy and helping to channel those giftings into effective manhood for the glory of God can be challenging, but rewarding.
For my husband and me, our children range in age from pre-school to pre-law. Our three little boys are following in the ways of their three older brothers and they enjoy their company. Our daughter is in the middle and loves them all. Our oldest son, Garrett, is away at college but thanks to technology we Skype with him on the computer at scheduled times so everyone can see each other and visit for a while. The twins often write him a note just because they are thinking about him. Garrett will often buy gifts or take them places, like the park or the dollar store when he's in town. They especially love it when he wrestles or plays "tiny" Legos with them.
Just last week, our youngest little guy, Galen, decided out of the blue, that he wanted to call Garrett, his oldest brother, to see if he liked pizza. So, I facilitated the call. We left a message but Garrett called us back as soon as his class was over. Once Galen got his answer and told Garrett we were making pizza and building Legos, he was happy and on his little way. Garrett appreciated the surprise sweetness in the middle of his day and thanked us for calling.
It warmed my heart to know so much love and care abounds, especially since I know they will most likely have each other much after Billy and I are gone. I'm glad to have played a part in providing them a family to belong to.
Fueling Friendships
Here are a few things you can do to foster friendships with your children.
1-Don't allow anyone to make fun of another person in the family. This includes teasing, making jokes or jeering, sarcastic remarks, and calling names. This is never appropriate and always damaging. It is a building of their character to show courtesy to others and it starts in the family. Parents have the role to protect the children in the home, even from what could be a "bully" or critical sibling.
2-Do promote a willingness to laugh at oneself. If that happens, others can join and laugh "with" the other person, not "at" them. Otherwise it is insensitive to laugh at someone who has just been hurt or embarrassed. To monitor your reactions based on how another person is responding promotes maturity and compassion.
3-Create an atmosphere where there are common goals and times to bond together, sharing experiences and making memories.
4-Speak the identity and destiny of each individual child and cultivate an appreciation of everyone's different skills and interest. It's very much like, "We're all in this play together, but we are cast in different roles with different characters to play and lines to speak." No one could pull off the play on his or her own strength; neither does everyone need to play the same part. Each person is special, unique and needed!
5- Stress the importance of attending each others' special events. This places a high priority on family members and teaches children how to share their time and attention with others who are special to their lives. No one else is more important than their family, even if they have to deny a friend's invitation elsewhere. This helps the siblings not to grow up to be self-centered, but family-centered and God-centered. Each person keeps a family schedule— not just their own, participating with and supporting each other.
Spirit of the Home is "Caught" not "Taught"
I hope you will see that families often reflect the attitude of the parents about each other. If you don't want to be bothered with all the closeness and lovey-dovey— then chances are, your children are not going to want to be bothered either once they get older. The spirit of your home is more "caught," than "taught." Do your best to create a place where everyone is loved and where life-long friendships can flourish!
Copyright © 2008-2015 Debbie Reynolds Harper
Read more about the writer: Debbie Reynolds Harper
---
Post Your Comment...
---