A Time to Mourn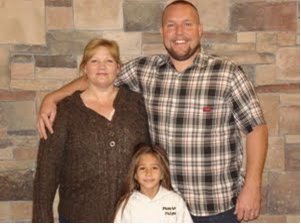 "The Lord gives and the Lord takes away, blessed be the name of the Lord....Though he slay me, yet will I serve Him."
These passages from the first chapter of Job are heavy on my heart this week. You see, my brother Jaramie's beloved wife Cathy went to be with Jesus last week. She died from H1N1. It is still so surreal.
My heart aches. Not for Cathy because she is with her Savior, worshipping Him forever. It is for the living that I grieve.
For my brother Jaramie, a pastor/missionary to Mormons just outside Salt Lake City, Utah. He has lost his helpmate, best friend and love of his life.
For Emily, their 9-year-old daughter, whom they adopted at birth, who has lost her mommy. AP says,
For Jerry, who has lost his mom, and his wife, Kelli, who has lost her mother-in-law.
For Chuck, Cathy's dad. Even though his Alzheimer's disease is taking its toll, he is still aware that his daughter is gone.
For Katherine, Emily's biological sister for whom Jaramie and Cathy served as foster parents time and again throughout her 12 years of life. She was just placed with them again four months ago.
For all the people of North Valley Bible Church (http://northvalleybiblechurch.org/) in Harrisville, Utah, who have lost their beloved pastor's wife.
And for so many others-- family, friends, and perfect strangers-- who were touched by Cathy's calm, easy-going spirit. Her loving attitude. Her diligence and tremendous hard work. Cathy was truly a servant. She was one of those people who just took care of everyone and everything. I never heard her complain and never saw her get grumpy about working or serving. Cathy will truly be missed by all who knew her.
She was an amazing woman, and I will miss her tremendously. You can read more about their story at http://northvalleybiblechurch.org/pastor.html.
Please join me in prayer for this wonderful family. Hug your loved ones a little tighter, make that apology before it's too late, tell others what they mean to you. Thank that person in your life who does so much, yet is recognized so little. It is God who numbers our days, and tomorrow is promised to no one.
Copyright © 2008-2015 Kerriél Bailey, Esq.
Read more about the writer: Kerriél Bailey, Esq.
---
Post Your Comment...
---