< Back to Kitchen Keeper Recipes
Tortilla Roll-Up Snacks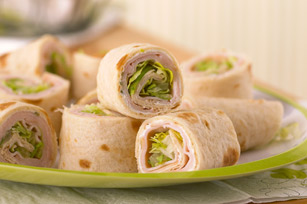 This is a quick meal or snack you can prepare ahead of time and pop in the microwave right when you need it. On Wednesday nights, our family is always tight on time, so things like this can really help—especially with no dishes or pots and pans to clean up. Also, I like the fact that on nights when everyone is eating at a different time, there is something prepared and ready to go. Paper plates make a quick clean-up.
Makes 6 Roll-ups. Hands On: 5 minutes Total Time: 10 minutes
Ingredients:
6 flour tortillas for soft tacos and fajitas
1-1/2 cups finely shredded Mexican style four-cheese blend
1 cup finely chopped deli ham (from 10-oz pkg.)
1/4 cup dried cranberries
6 (12 x 8-inch) pieces waxed paper
Salsa
Directions:
Sprinkle each tortilla with cheese, ham and cranberries evenly over tortillas.
Roll up tightly like a tube.
Wrap each in waxed paper, twisting ends to seal.
Refrigerate until ready to serve.
Microwave individually for 15-30 seconds on High; let stand 30 seconds.
Microwave 2 at a time on high for 30-45 seconds; let stand 30 seconds. Serve with your favorite salsa for dipping.
Copyright © 2008-2015 Debbie Reynolds Harper
Read more about the writer: Debbie Reynolds Harper
---
Post Your Comment...
---