Celebrating Young Manhood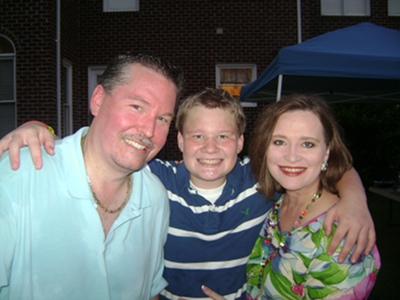 With a society that continues to bash men, it is important to raise a standard of appreciation for young men and to challenge as well as encourage them to be all that God has called them to be.
The Fun
When our son Grant recently turned 13, we gathered a group of fathers and sons to celebrate his passage into manhood.
We started the event with a grilled hamburger meal that all the "men" enjoyed. Then the guys formed two teams and played a very energetic and, surprisingly, highly competitive game of football. I guess when you get guys together they can't help but be competitive!
Grant totally enjoyed the experience and especially was elated to make the last touchdown of the game. I don't think I'll ever forget that priceless smile!
The Purpose
After the game, my husband, Billy, gathered the men in a seated area and honored Grant with a word of encouragement and a prayer of blessing. Grant was recognized by his dad as a young man who is growing in wisdom and favor with God and man. His father, my husband, Billy, expressed how proud we are of Grant and how pleased we are to see Godly character demonstrated in his life already. He is honest, diligent, faithful, courageous, compassionate and generous. We believe that God has a special purpose for him as he becomes a man after God's own heart.
Our goal was to charge Grant to begin preparing for his role as leader of his family as a protector, provider and priest of his home.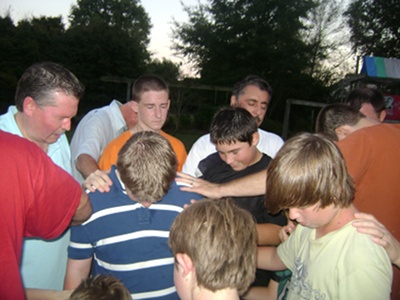 But you'd have to know my husband to know that he doesn't miss an opportunity to bring a fun sense of humor into things. So before he made the serious charge, he made some funny ones first.
Billy had a bag of items from which he pulled and gave Grant
a fly-swatter, a can of Raid bug spray, and a bully club-- so that he could be a good protector.
a calculator, a newspaper help-wanted ad and a big book about family finances—so that he could learn to be a good provider.
finally, a big book of Bible maps, charts and timelines; a parenting book, and a 10-pound Bible concordance—to ensure that he would be prepared to be the spiritual leader and priest of his home.
We all laughed! Grant's arms were piled so full that we couldn't see his face, and he was laughing—it was funny!
Then Billy took the pile away and seriously encouraged Grant to grow in wisdom and not folly as he passed through these years entering manhood and then presented meaningful gifts for the three roles he will need to assume in the future.
The Prayer
At Billy's request, the other men gathered around Grant and joined in a prayer of blessing for him. One by one, each offered a prayer of thanksgiving and blessing for Grant. It was a special celebration that he won't forget.
At the end, Grant opened gifts and cards that included a personal word of wisdom from each of the men. One of the clever gifts was some "cold, hard cash," which was 13 one-dollar-bills placed in a plastic tray of ice and presented frozen. He'll never forget it!
Your Turn
Providing memories and mile-markers are a special part of life. Take opportunities to celebrate special times for the people you love!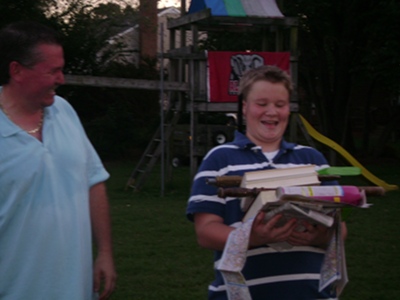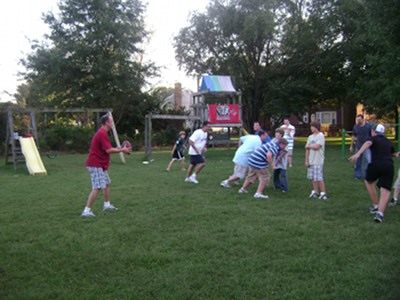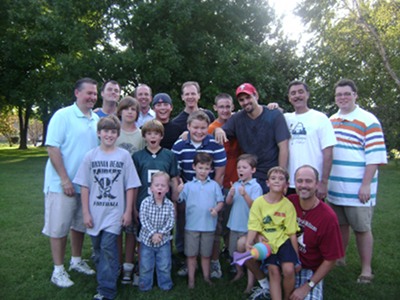 Copyright © 2008-2015 Debbie Reynolds Harper
Read more about the writer: Debbie Reynolds Harper
---
Reader Comments...
2010-09-14 12:52:03
"I enjoyed your recount of the milestone celebration. I found it on an internet search for the very reason that I am planning an event similar and was looking for resources and ideas. I gleaned a couple from your study do you have any other resources that you would recommend for ideas on an event like this? Thanks"
- weston
2009-12-02 05:44:53
"That sounds like it was so much fun and a blessing to all who were involved. But most of all it glorified God. I thought about doing something similar for our son when he turned 13 last year, after reading this I think I will do it this year. Thanks for sharing.

God Bless."


- Rhonda
---
Post Your Comment...
---