The Invisible Heroes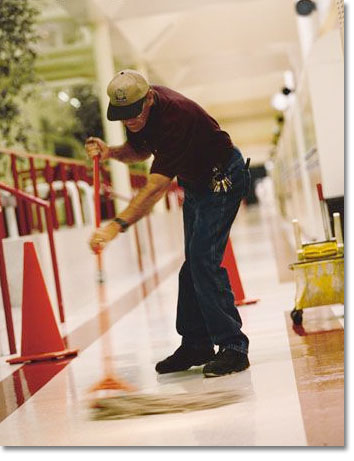 During this Thanksgiving season, we are often reminded about those we should remember to thank.
However, I don't think I have ever read an article about being thankful for the invisible angels who serve to keep our houses of worship running smoothly. As we hold the door open for a friend at church, we may joke about being a "doorkeeper in the house of the Lord." But, how many of us stop to think that someone had to make sure the doors were open, that the glass on the doors had to be cleaned regularly so that attendees wouldn't be greeted with smudged handprints on that beautiful glass.
• What about those people who pick up the extra bulletins left on the floor or in the book racks after a service?
• Who sees that the chairs and pews are clean?
• Who keeps the trashcans emptied, even when they are filled with dirty diapers from the nursery?
• Who makes sure there are paper towels in the dispensers in the restrooms?
• Who keeps the sidewalks clear from ice and snow in winter and the grass mowed in summer?
• Who checks to make sure the light bulbs are changed and burning brightly for the services?
• Who regularly vacuums the carpets or cleans the tile floors?
And we could go on and on with the many tasks a church custodian must do.
In larger churches, custodians may be paid for their services. However, many smaller churches have to rely on volunteers. And in some churches, the pastor (and his family) may also be the custodian!
These people are almost invisible to the average church attendee and often taken for granted by even the church staff. They are usually the first ones there and the last ones to leave. Sadly, often the only times they hear from others is when there is something wrong.
Heroes of the faith do not all wear suits and ties or lovely dresses and heels. In fact, many people in the congregation don't even know who the custodians are.
I challenge you during this holiday season to make the effort to thank these "unsung heroes." A smile and kind word will "make the day" for those who continually work to make OUR worship experience a pleasant one where we can focus on worshiping and learning about God instead of having to shove aside old bulletins to even sit in the pew.
Copyright © 2008-2015 Shirley Shedd
Read more about the writer: Shirley Shedd
---
Post Your Comment...
---