Christmas Read-Aloud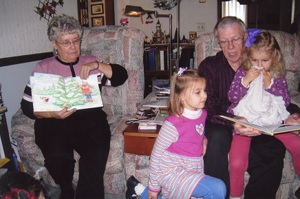 Each year, stores are flooded with more new Christmas books: Advent readings, cookbooks, crafts to make as gifts, traditions, reminiscences of Christmases past, novels and more.
While browsing in the children's section of a large bookstore several years ago, I came across a book with an intriguing title: The Gift of Nothing by Patrick McDonnell. I stood there reading this amazing little book. I knew when I got to the last page that this story needed to be shared.
My husband's office had decided that each person was to bring something to share aloud at the Christmas party. I knew this would be perfect—and it was! More than that, we chose to share this children's- book-with-an-adult-message-- with the family.
After the traditional reading of the Christmas story and prayer, my husband called the grandchildren near so he could read to them—while the adults could listen in.
Thus a new tradition was begun with our family. Each year I look for that "perfect" book to share with family and friends. Rarely are these a repetition of the biblical Christmas story. In fact, I seek books that look at Christmas from a different perspective—the one that brings us to an "aha" moment and possibly causes us to become teary-eyed.
One year, we used the book, Christmas Soup by Alice Faye Duncan and Phyllis Dooley, which my husband read before we served everyone a bowl of Christmas soup --you have to read the book to find out what that is! At his office party, at the end of the reading, each home represented was given a can of Christmas soup.
Mortimer's Christmas Manger by Jane Chapman and Karma Wilson is a fanciful, delightful story that my husband was asked to read at the entire company's Christmas party. This story with a punch clearly presents the Christmas message in a way you will not soon forget.
Other favorites from recent years include Merry Christmas with Love by Chris Shea, The Gift by Sandra Magsamen, and The Legend of the Christmas Stocking by Rick Osborne (a board book that can be meaningful even to preschoolers).
Finally, if you have an elderly friend or relative who would be thrilled with just an hour of your time, you must read for yourself A Cup of Christmas Tea by Tom Hegg and illustrated by Warren Hanson. . . . and then make yours and someone else's Christmas complete by sharing not just any gift, but the gift of yourself.
Warning: This is probably not a read-aloud—because no doubt you won't make it through the book without crying.
Note: Some of these may be out of print, but I found these in several of the online bookstores, some for very little cost.
Copyright © 2008-2015 Shirley Shedd
Read more about the writer: Shirley Shedd
---
Post Your Comment...
---