You 'da Best!!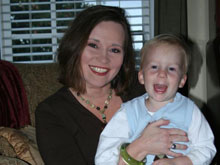 I think it's every mother's dream to be appreciated by her children. So many times we feel under-appreciated and taken advantage of. The thoughts that we would ever actually be highly esteemed for our service (at least while they are young) seem lofty.

After raising six sons and one daughter and seeing them through the potty training years… I don't think I've ever had any of them actually "thank" me--until recently.

Our youngest son, Galen, is three, and has done very well with potty training, but still needs occasional assistance. Just a few weeks ago, he needed some help finishing up and so I went to help him. It took just a minute and was pretty effortless on my part… still he turned and said as he was leaving… "Tanks (thanks) Mom—You 'da Best!!"

His eyes were so twinkling bright and his smile so sweet that I scarcely remember all the days I struggled through potty training challenges with the other children—those previous difficulties all seemed to instantly vanish--with a little heart-felt gratitude expressed ever so sweetly!

I wonder if our simple expressions of gratitude warm the Father's heart just as much?
Copyright © 2008-2015 Debbie Reynolds Harper
Read more about the writer: Debbie Reynolds Harper
---
Post Your Comment...
---