Helping Your Children Find Good Friends
Friendships are important all through life and the process of selecting good friends begins in the early stages of childhood. It is important that we surround ourselves with like-minded families and encourage friendships that promote the qualities we desire in our children. Here are a few suggestions for helping your children make good friends.
Building One Another Up: Make sure the relationship builds your child up and doesn't tear them down. It is so common for children to be rude to one another and sometimes even cruel. It is our jobs as parents to make sure the friendship provides an encouraging atmosphere for our children.
Maintaining a Healthy Balance: It is important that we not allow our children to become emotionally dependent on anyone else. When this happens, they or their friend will become jealous, possessive, controlling and demanding. Relationships should have room to breathe and allow for friendships with others as well.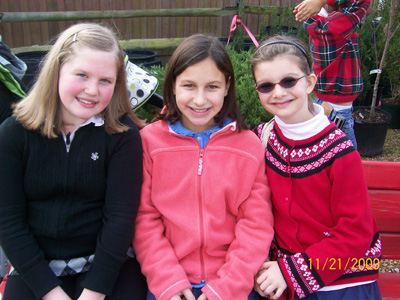 Cultivating Similar Values: Character training is primarily influenced by parents. These parents promote certain values to their children weather they realize it or not. Children reflect many of their parent's values and that can influence the things that our children will learn to value. It is important to carefully observe the values of the children with whom our own children become friends with. Do they care about the needy, and serving others, or do they care about spending all their free time and money at the mall. Are they interested in devoting time and effort at developing a special skill or talent, or do their thoughts and energy go to the latest video games. We need to observe and point out to our children the values we see in others and help them to build friendships with others who share similar values.
Good friendships don't just happen, but take effort and prayer on the part of parents. We can guide our children in developing quality relationships based on Godly values and prepare them for our lifetime of friendships.
Copyright © 2008-2015 Debbie Reynolds Harper
Read more about the writer: Debbie Reynolds Harper
---
Post Your Comment...
---