< Back to Kitchen Keeper Recipes
Parmesan Crusted Chicken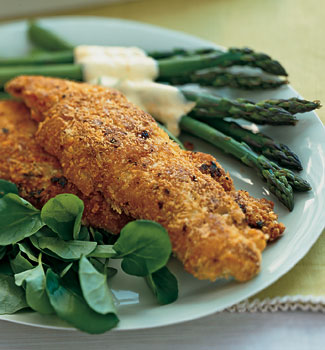 I'm always interested in new ways to serve chicken—especially using ingredients I already have. When I saw this recipe on the side of the Hellmann's mayonnaise jar, I thought it might work for our family, and it did!
Billy was actually cooking that night, and he whipped up the ingredients in a cup, spread them on the chicken breast and put them in the oven. It was delicious.
We didn't have Italian bread crumbs, but I had some left over pieces toast—so Billy crunched them up and added some oregano and basil seasoning and it worked fine. We added some green vegetables and a side of rice and it was great. All the children liked it and it was easy!
Ingredients:
1/2 cup of Hellmann's mayonnaise
1/2 cup grated parmesan cheese
4 boneless, skinless chicken breast halves
4 tsp. Italian seasoned dry bread crumbs
Directions:
Combine mayonnaise and cheese.
Spread on chicken, then sprinkle with bread crumbs.
Bake at 425 degrees for 20 minutes or until thoroughly cooked.
Enjoy!
Copyright © 2008-2015 Debbie Reynolds Harper
Read more about the writer: Debbie Reynolds Harper
---
Post Your Comment...
---