Getting Rid of Clutter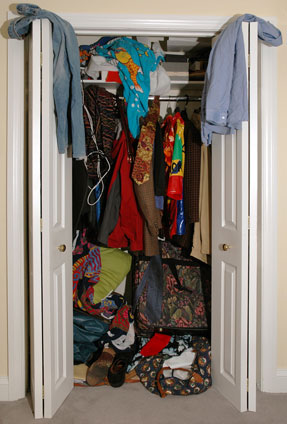 Pain thresholds differ greatly from person to person: likewise, the "clutter threshold" differs from household to household.
I must admit I have a very low threshold for clutter. I don't like the disorder or the unsightly mess it creates. Thankfully, my husband and I share a similar desire for effective organization and for our "line of sight" to be neat and orderly. The children, on the other hand, don't always share our enthusiasm to keep it looking that way—and consequently our goal of having an orderly home isn't always realized.
From time to time in the busyness that life brings, especially in the aftermath of any form of an unexpected turn of events, we find ourselves and our home suffering from what can be overwhelming, joy-choking clutter, and our goal eludes us.
At times, clutter just gets away from me. I find that when I brace myself for the much-dreaded, de-cluttering session, I just might be a good candidate for a "brown bag" (the kind they give to airline passengers and others who are hyperventilating to help them breathe better).
Although this scene might sound humorous, the "brown-bag syndrome" can indeed be a reality—without the intervention of God's peace and help.
Seven Things a Day
On one occasion this became a bigger deal than I cared to admit… but it was true. I was trying so hard to keep things up, but it seemed more than I could handle. I prayed earnestly and asked God for strength and for a divine solution.
What God put in my heart, I will forever remember: He impressed upon me to go on a "clutter fast." I was to put seven things in a box in my hallway each day for 40 days.
I did this faithfully and obediently each day, and, one by one, I placed unwanted and un-needed items in the box. Before long, I felt freedom. My goal wasn't impossible after all. The process removed the big pile of rubble I felt on my head—piece by piece—so that I could think more clearly. At the end of the process, I cheerfully donated the items I'd collected and enjoyed more simplicity and order than I had experienced in months.
The next time you are suffering from the "brown-bag syndrome," remember there is help available—just ask. He will give you a creative solution that will work for you and your household!
Copyright © 2008-2015 Debbie Reynolds Harper
Read more about the writer: Debbie Reynolds Harper
---
Post Your Comment...
---