Once Barren
This is for couples who have been trying to conceive a child.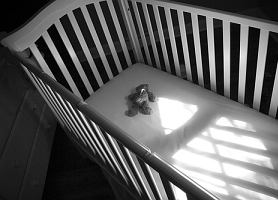 Most of my life doctors had told me that I probably wouldn't be able to have children. When I was in college a doctor even called me "Barren". That label stuck with me for over ten years, even into my marriage. What I had assumed to be a given for most women and that would happen to me eventually disappeared, and I now became a part of a statistic that couldn't bear children for one reason or another.
My husband always said we would adopt and that it was no big deal, but in my heart there was always this void, feeling as though some major part of my life was missing. When my husband and I were married we both decided that if God chose to work a miracle and allow me to be pregnant, we would consider it a blessing and therefore, not do anything to prevent it from happening. Well, seven years went by and the longing for a family began to intensify. We looked into adoption, but there was something in me that wanted to refute that label of "Barren" spoken over me.
I thought that before taking the adoption route, we could at least check into it medically and after all, there have been medical advances in infertility in the last ten years. So we went to The New Hope Center for Reproductive Medicine and visited with Dr. Robin Poe-Ziegler. We both were examined and it turned out that both of us had some serious challenges. My husband after two examinations did not produce any sperm, and I was diagnosed with Endometriosis and Poly-cystic ovaries. This explained my years of long, painful menstrual periods lasting for two weeks at a time, every nine to twelve months. But, after three rather painful surgeries to remove scar tissue caused by the Endometriosis, Dr. Robin made an effort to clean and prepare my uterus to receive and accept an embryo. We were now a couple fit for In-vitro Fertilization where egg follicles are stimulated, eggs are removed, fertilized (in my case with donor sperm that my husband picked out), then re-implanted back in the uterus as embryos.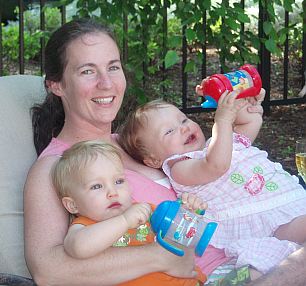 I find myself welling up with tears as I write this because even through these surgeries I thought that if pregnancy comes from this it will be an absolute miracle. Well, from my eggs, they were able to fertilize and create nine embryos, three of which were implanted in my uterus and six were frozen for future use. When I came home from implantation surgery, I was ordered to 24-hour bedrest. I laid on my bed and prayed with my hand over my belly asking God to have mercy on me and breathe life in my womb and allow me to be a mother.
Two weeks later the pregnancy test was positive and eight months later I gave birth to twins - Juliana and Andrew. Now two years later I am pregnant again with one baby from the same embryo batch as the first time; blood brother and sister to the twins. After looking back on it all, I am very glad I didn't stay in that desolate place called "Barren," because God is a God of hope and restoration, even if it required skillful doctors and medical technology to make things happen. And if it can happen for me, it can happen for anyone.
Copyright © 2008-2015 Patricia Vera
Read more about the writer: Patricia Vera
---
Reader Comments...
2010-03-15 00:18:33
"Thank you so much for sharing your article! I have pcos as well, which causes my miscarriages and infertility. My husband and I have tried for a long time and decided to just pray for God to allow me to become pregnant in His timing. I am on medication treating it and we are waiting on the Lord for the rest. It is so good to know there are people out there who know what you are dealing with."
- Holly
---
Post Your Comment...
---