< Back to Kitchen Keeper Recipes
Fettuccine Alfredo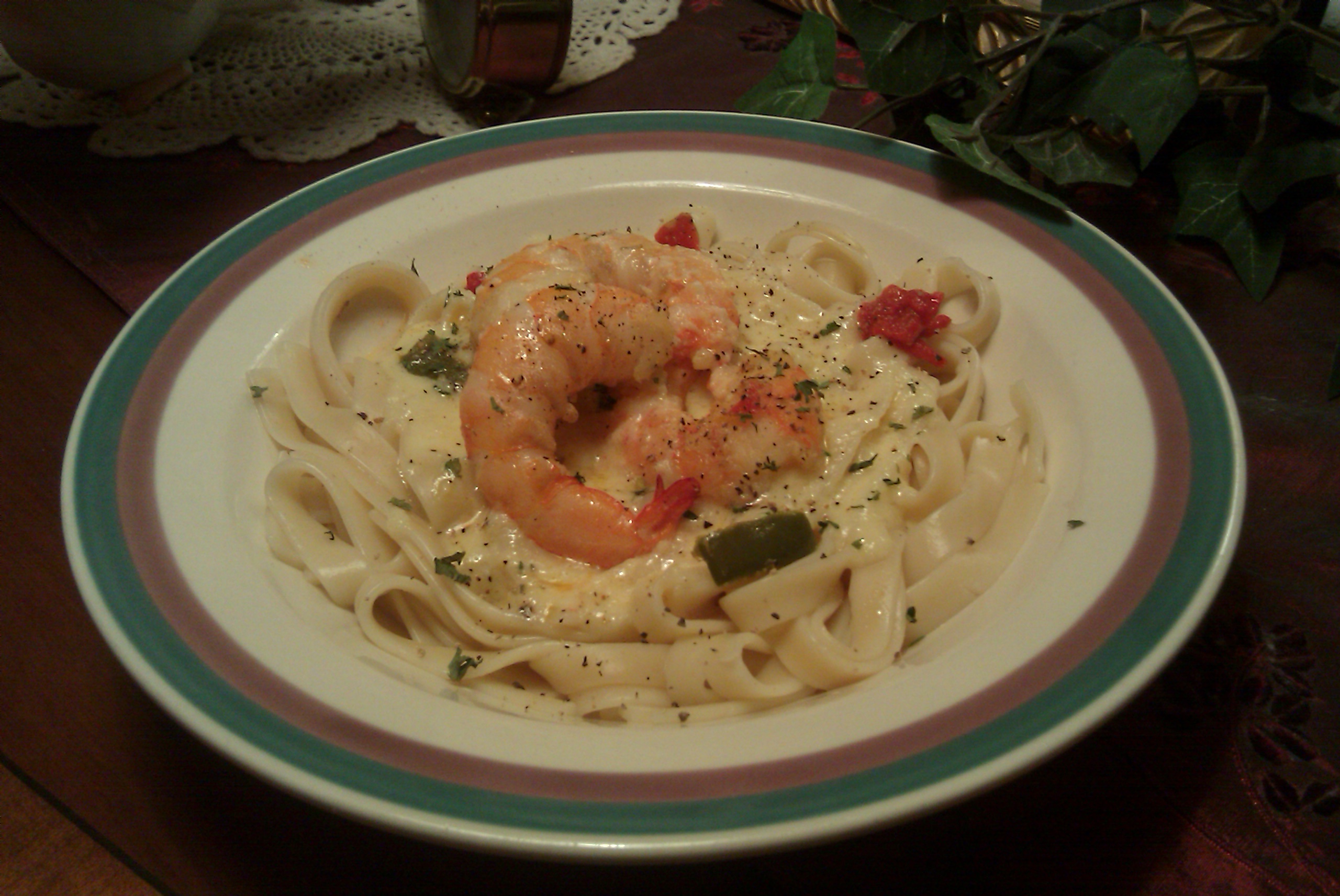 This is a homemade recipe that can beat any restaurant. My husband recently made this for us as a treat, using some gulf shimp brought back from a trip south and it was delicious.
Ingredients:
Alfredo Sauce
1/2 c. butter
2/3 c. heavy cream
1 1/4 c. grated Parmesan cheese
1/4 tsp. salt
Dash pepper
Chopped parsley
Sautee Shrimp
8 lg. shrimp
1 tsp of real butter
1/8 cup of red and or green peppers cut into small pieces
Directions for Noodles:
In large kettle, bring 4 quarts water with 1 tablespoon salt to boiling.
Add noodles; return to boiling.
Boil, uncovered and stirring occasionally, until tender but firm.
Drain noodles; keep warm.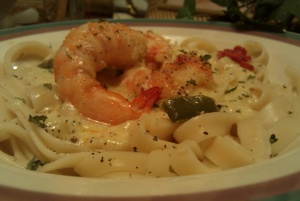 Directions for Shrimp:
Cut heads off shrimp, peel the shrimp including the tail.
Melt butter in small sautee panplace peppers & shrimp into sautee pan sprinkle with season salt, pinch of pepper, a little cajun if you would like them a little spicy
Only sautee until shrimp are pink and white all the way through.
About 1 or 2 min.
Don't overcook or the shrimp will become tough.
Directions for Alfredo Sauce:
Heat butter and cream in medium saucepan until butter is melted.
Remove from heat.
Add 1 cup Parmesan cheese, salt and pepper.
Stir until sauce is blended and fairly smooth.
Directions for After You Have Finished Making the Other Ingredients:
Add to drained noodles and toss until they are well coated.
Sprinkle with remaining Parmesan cheese and chopped parsley.
Serve at once.
Will make 4 nice servings.
Copyright © 2008-2015 Debbie Reynolds Harper
Read more about the writer: Debbie Reynolds Harper
---
Post Your Comment...
---