< Back to Kitchen Keeper Recipes
Cheddar Bacon Quiche
Quiche is something that I really enjoy. The children don't like it as much as I do, so we don't make it often. Here's a recipe you can try that's delicious.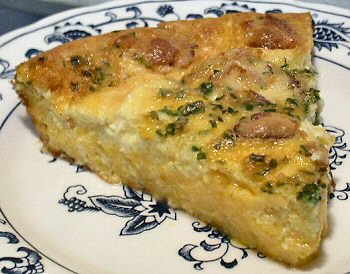 Ingredients:
6 slices bacon, diced
1 regular 9-inch frozen pie crust
3 eggs
1 cup half-and-half
1 cup shredded sharp cheddar cheese
2 Tbsp. thinly sliced green onions
Directions:
Heat oven to 375 degrees.
Fry bacon in small skillet over MEDIUM-HIGH heat until crisp.
Drain on paper towel. Set aside.
Place crust on baking sheet.
Bake 5 to 7 minutes or until very light golden brown.If bubbles forn, gently press with back of wooden spoon.
Meanwhile, beat eggs and half-and-half in medium bowl.
Stir in cheese and onions; pour into crust.
Sprinkle with bacon.
Bake 25-30 minutes or until filling is browned and set.
Enjoy!
Copyright © 2008-2015 Debbie Reynolds Harper
Read more about the writer: Debbie Reynolds Harper
---
Post Your Comment...
---