< Back to Kitchen Keeper Recipes
Quick Chinese Fried Rice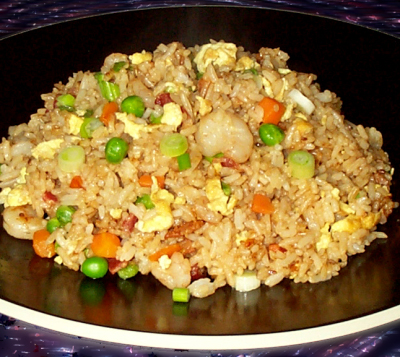 Fried Rice is a favorite around our house and everyone who can cook has a little different spin on it. Our son, Gavin recently made some very tasty dish. Here's his recipe! Delicious!
Ingredients:
Approx. 4 cups of cooked rice
Vegetable oil, enough to fill a frying pan.
About 1/2 cup (give or take) of diced vegetables (frozen)
2 eggs
Dash of ginger
Dash of sage
Soy sauce (to taste)
Directions:
Get out a wok or a frying pan.
Fill the bottom of the pan or wok with oil. Make sure the oil gets hot before you move on to the next step.
Crack the eggs into the pan or wok and scramble.
Add the rice to the pan and stir.
Add the vegetables and mix together.
Add the dash of ginger and sage.
Add the soy sauce, as much or as little as you like.
Option: You can add chicken if desired.
Enjoy!
Copyright © 2008-2015 Debbie Reynolds Harper
Read more about the writer: Debbie Reynolds Harper
---
Post Your Comment...
---