I Arise Today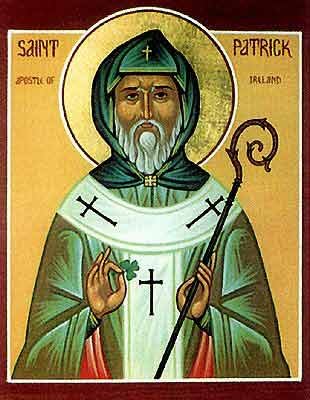 Last year this time, I was suffering from a serious sinus infection and just felt miserable all over. I struggled through my daughter's birthday party and went through what seemed like an entire box of tissues. At one point, I recognized that my physical struggles had some part of their origin in the spiritual. I began to realize that I had what the Bible calls an affliction—a spirit of darkness that affects our physical well-being.
It was at that time that I received the following prayer (actually a song) written by St. Patrick, sent by email from Pastor Brad Shedd, at Harvest Assembly in Chesapeake, VA. As I read it, my spirit began to arise within me, as my heart was in agreement with the words. There was so much truth to the prayer, that my spirit was strengthened and nourished.
I printed out the prayer, and that evening, as I lay desperate for relief from my sickness, I asked my husband to pray this prayer over me and so he did. What happened next was amazing! I literally felt my spirit that was deeply compressed within me began to lift, to lighten and to arise, until I felt completely different and well!
I remember singing songs in church when I was younger, like, "Arise and Be Healed, in the name of Jesus," but I had never experienced it until that night. I have prayed this prayer, or portions of it, many times since then and because it was so powerful for me, I wanted to share it with you.
I hope it blesses you as it blessed me. And may you realize what a hero of the faith that St. Patrick was so long ago.
Patrick composed this hymn in the time of Loegaire, who was the son of Niall. He wrote it to protect himself and his monks from their many deadly enemies who lay in wait for priests.
Now this breastplate of faith is to protect body and soul from devils and men and sin. When anyone uses it each day, carefully seeking God, devils will turn and run.
St. Patrick's Lorica
I arise today
In a mighty strength,
Calling upon the Trinity,
Believing in the Three Persons
Saying they are One
Thanking my Creator.
I arise today
Strengthened by Christ's own baptism
Made strong by His crucifixion and His burial
Made strong by His resurrection and His ascension
Made strong by His descent to meet me on the Day of Doom.
I arise today
Strengthened by cherubims' love of God
By obedience of all angels
By service of archangels
By hope in reward of my resurrection
By prayers of the fathers
By predictions of prophets
By preaching of apostles
By the faith of confessors
By shyness of holy virgins
By deeds of all holy men.
I arise today
Through strength in the sky:
Light of sun
Moon's reflection
Dazzle of fire
Speed of lightning
Wild wind
Deep sea
Firm earth
Hard rock.
I arise today
With God's strength to pilot me:
God's might to uphold me
God's wisdom to guide me
God's eye to look ahead for me
God's ear to hear me
God's Word to speak for me
God's hand to defend me
God's way to lie before me
God's shield to protect me
God's host to safeguard me:
Against devil's traps
Against attraction of sin
Against pull of nature
Against all who wish me ill
Near and far
Alone
And in a crowd.
I summon all these powers to protect me-
Against every cruel and wicked powers that stand
Against me
Body and soul
Against false prophet's wild words
Against dark ways of heathen
Against false laws of heretics
Against magic and idolatry
Against spells of smiths*, witches and wizards
Against every false lore that snares body and soul.
Christ protect me today
Against poison, against burning
Against drowning, against wounding
So that I may come to enjoy Your rich reward.
Christ ever with me, Christ before me, Christ behind me
Christ within me, Christ beneath me, Christ above me
Christ to my right side, Christ to my left
Christ in His breadth, Christ in His length, Christ in depth **
Christ in the heart of every man who thinks of me
Christ in the mouth of every man who speaks to me
Christ in every eye that sees me
Christ in every ear that hears me.
I arise today
In mighty strength
Making in my mouth the Trinity
Believing in mind Three Persons
Confessing in heart they are One
Thanking my Creator.
Salvation is from the Lord
Salvation is from the Lord
Salvation is from Christ
May your salvation
Three Lords
Be always with us.
* The most feared spell was for the smith to "turn his anvil," that is, upside down. It must have been regarded as the ultimate show of strength - a show of anger - by the strongest man in the clan.
**Eph. 3:18 "This is what I pray, kneeling before the Father . . . that Christ may live in your hearts. Planted in love and built on love . . . that you will have the strength to grasp the breadth, the length, the height, the depth; until knowing the love of Christ, which is beyond all understanding, you are filled with the utter fullness of God."
Copyright © 2008-2015 Debbie Reynolds Harper
Read more about the writer: Debbie Reynolds Harper
---
Post Your Comment...
---