Color-Coded Cups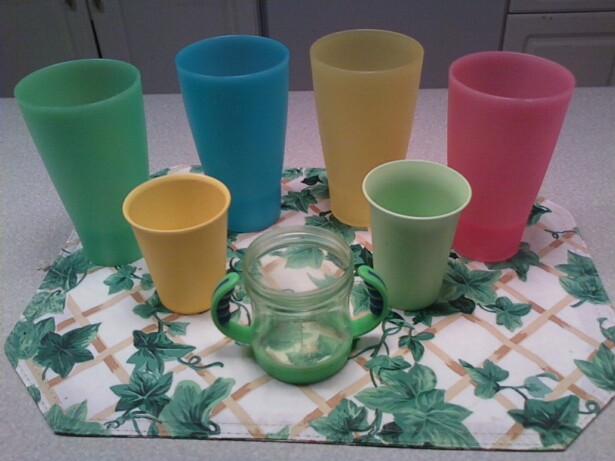 When my mom was growing up she was the youngest of four and my grandmother had a system to cut down on the amount of dirty dishes when the children were home from school for the summer. She bought four metal cups in different colors and they were to use only their cup all throughout the day. That was in the 50s. How clever!
Now, that I am raising a family, I do the same thing with my seven children and it saves a lot of unnecessary washing of dishes. Since our children are home-schooled, this really makes a difference every day of the week.
Our cups are plastic, sturdy and easily recognizable. Garrett's is green (when he's home from college), Gavin's is blue, Grant's is yellow, and Gillian's is pink. We started this household tip before the three younger children were born when our oldest son was about 10 years old. But now the younger ones have their own color with the LITTLE cups.
The children rinse them out each time they use them throughout the day and leave them upside down drying on a towel on the counter, and at the end of the day, they put them in the dishwasher to be washed and ready for the next day.
Color-coded cups work for us and they may work for your family too!
Copyright © 2008-2015 Debbie Reynolds Harper
Read more about the writer: Debbie Reynolds Harper
---
Post Your Comment...
---