< Back to Kitchen Keeper Recipes
Macaroni and Cheese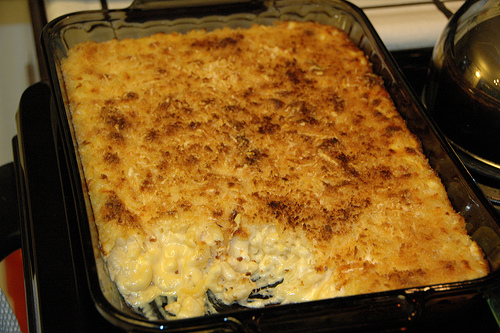 This is one of my favorite things to eat, it's very easy to make and very tasty. I hope you like it!
Ingredients:
8oz (1/2 package) Mueller's Elbow Macaroni
1/4 cup margarine or butter
3 Tbsp all-purpose flour
1/8 tsp dry mustard
1/8 tsp salt (optional)
1/8 tsp black pepper
2 cups milk
2 cups shredded sharp Cheddar cheese
1 cup croutons
Directions:
Cook Elbow Macaroni for 9 minutes
Drain, cover and set aside
Preheat over to 350F
In medium saucepan, melt margarine or butter; blend flour, mustard, salt and pepper
Cook until mixture is smooth and bubbly; gradually add milk
Cook and stir over medium heat until mixture boils; simmer 1 minute, stirring constanly
Gradually mix in cheese. Stir over low heat until cheese is melted
Add pasta, mix together lightly. Pour into 2-quart casserole
Top with croutons.
Bake 25 minutes
Copyright © 2008-2015 Debbie Reynolds Harper
Read more about the writer: Debbie Reynolds Harper
---
Post Your Comment...
---